A cup of coffee is only as good as the beans it comes from and so it's crucially important to get the process right if you want to make really high-quality coffee at home. As such, many people turn to specialised coffee grinders to take those delicious beans and extract the maximum value out of them. And you're spoiled for choice in this regard. There is a huge variety of coffee grinders out there, each with their own special characteristics that make them unique.
Typically, coffee grinders are split into various types – you can get an electric grinder, or you can get a manual grinder. And when it comes to electric grinders, these subdivide even further into the burr variety and the blade variety.
In this article, we're going to review 10 of the best coffee grinders across these categories and give you all the information and insight you need to pick the best one for you. We've done all the research, we've scoured the internet, and so you can rest assured that we've given you the cream of the crop here.
All that's left to do, is to get started!
In this review, we discuss;
Why Buy a Coffee Grinder?
Great tasting coffee
Coffee always tastes better when it is fresher. So, if you are able to do the grinding at home right before you brew it, you know that the bean is as fresh as possible for your steaming cup of joe. This is preferable to buying already ground coffee that's been sitting on a shelf for who knows how long, losing flavour over time. An at-home grinder ensures that you're got the freshest possible setup that's going to take your coffee to the next level.
Your coffee machine will last longer
If you're spending some decent money on coffee equipment, you want it to last as long as possible. Buying a separate coffee grinder can actually help to lengthen the useful life of your coffee machine, which is a big benefit. Bean to cup machines that do both the grinding and the brewing tend to wear down and depreciate quicker – so it makes a lot of sense to use a specialised grinder instead because that's going to keep your coffee maker in better shape over the long term.
Minimal mess
The best coffee grinders on the market make it very easy to pour the ground coffee straight into the coffee filter, leaving a minimal mess. You can very easy clean the grinder and you don't have to worry about digging around in a coffee machine trying to clean it out from the inside. It saves a lot of time and headaches, so you can focus more on the coffee, and less on the cleaning up.
Best Electric Coffee Grinders
Best Electric Coffee Grinder
Sage has developed a really powerful coffee grinder here with all the bells and whistles you could imagine to get the most out of your coffee beans. It has 60 unique settings and can be programmed and fine-tuned to get exactly what you're looking for, including for the French press, for filter coffee, and for espressos. All the grind coffee goes directly into a portafilter that can be inserted straight into your coffee maker for quick and easy access. It's a wonderful machine and we think it's the best electric coffee grinder on the market.
Grind settings: 60 grind settings
Digital display: Yes
Type: Conical burr coffee grinder
Dishwasher safe: Yes
Brand: Sage
Retailer: Best Coffee
Price: £££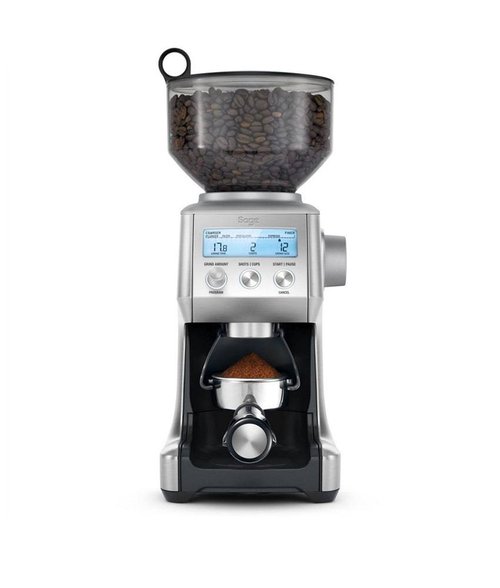 ---
This burr grinder from Krups is a robust and precise grinder that prides itself on delivering consistent results time and time again. It's 17 settings allow you to select a texture all the way along the spectrum to get that perfect cup of coffee that you're looking for. The grounds all come out as the same size which helps to preserve all the flavours and aromas – ensuring that you'll never be disappointed with this piece of equipment. You can't go wrong with this one.
Grind settings: 17 grind settings
Digital display: No
Type: Conical burr coffee grinder
Dishwasher safe: No
Brand: Krups
Retailer: Amazon.
Price: ££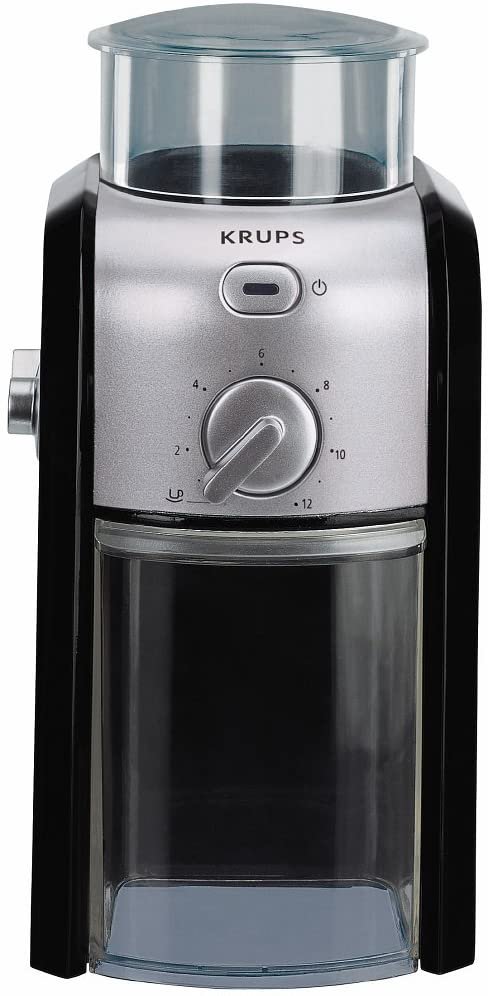 ---
This stylish coffee grinder is extremely minimalistic and is sure to be a welcome addition to any kitchen. It might not offer the flexibility of some other options, but for those who are looking for something simple and sleek – you won't find anything better suited. The stainless steel is topped with a clear plastic top so you can watch you beans as they're being ground and get the exact consistency that you're looking for.
Grind settings: 1 grind setting
Digital display: No
Type: Blade coffee grinder
Dishwasher safe: Yes
Brand: John Lewis & Partners
Retailer: John Lewis & Partners
Price: £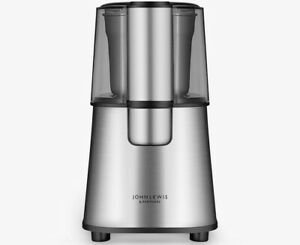 ---
This jet-black coffee grinder stands out in terms of its design – staying sleek and classy as it grinds your coffee to perfection. It's made of polycarbonate and steel and comes with a detachable 250g hopper for maximum convenience. If you're looking for a good looking, and capable coffee grinder for your home use, then look no further.
Grind settings: 5 grind settings
Digital display: No
Type: Conical burr coffee grinder
Dishwasher safe: No
Brand: Wilfa
Retailer: Best Coffee
Price: £££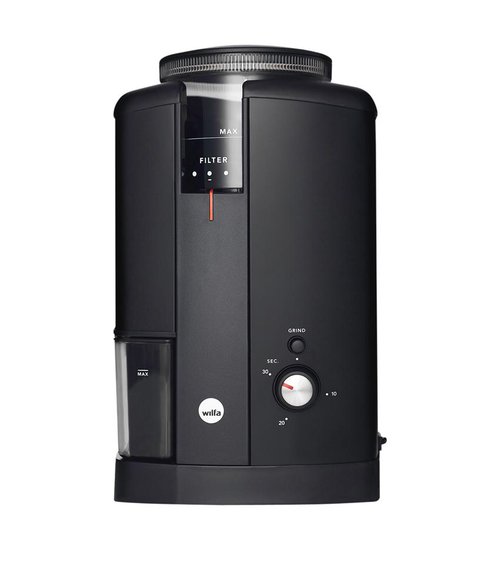 ---
This grinder from De'Longhi has a real vintage feel that makes it rather unique. Don't let that distract you from the capabilities though – it is a very powerful machine with 17 different grinding levels that can deliver any texture that you're looking for. Every part of the machine is modular which makes for easy use and easy cleaning – so it really is a stellar all-round machine.
Grind settings: 17 grind settings
Digital display: No
Type: Flat burr coffee grinder
Dishwasher safe: No
Brand: De'Longhi
Retailer: John Lewis & Partners
Price: ££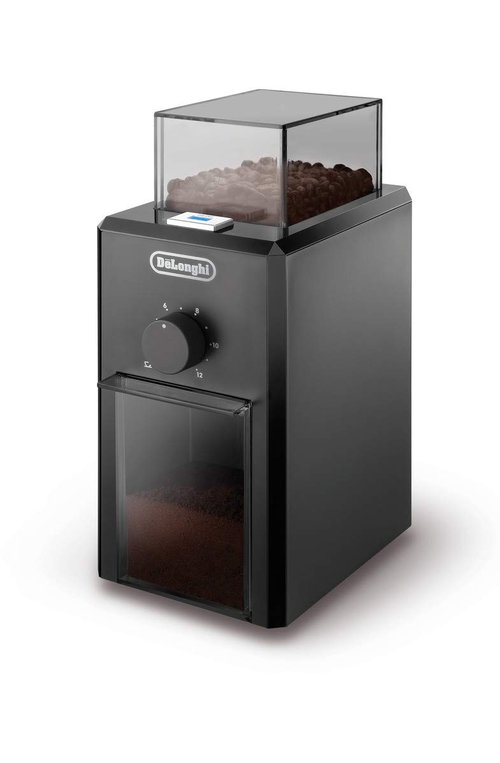 ---
This coffee grinder is one of the most compact ones on the market and has an incredibly durable blade that makes this a long-lasting, travel-suitable coffee companion. When combined with the stylish design and convenient cord storage, you've got yourself a great grinder that gets you results without taking up a lot of space. Dynamite certainly comes in small packages with this one.
Grind settings: 12 grind settings
Digital display: No
Type: Blade coffee grinder
Dishwasher safe: No
Brand: Bodum
Retailer: John Lewis & Partners
Price: £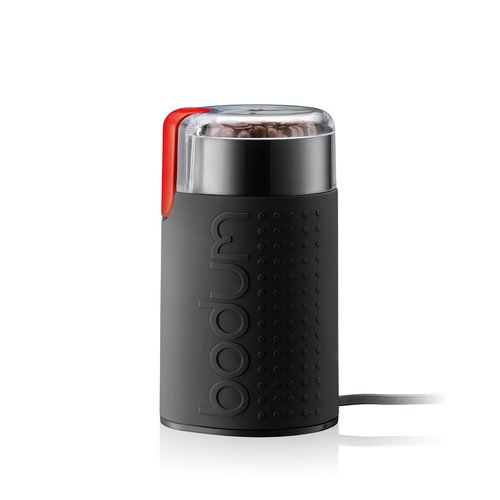 ---
Smeg knows how to make beautiful looking products and this grinder is no different. It has this classic look that's hard to match, but also packs an incredible quality grinder that will get you the coffee that you know and love every single time. It has a lot of space for beans meaning that you won't have to refill as often as you might have to with other options. You really get what you pay for here – a robust, powerful grinder that's going to bring an extra sparkle to your kitchen.
Grind settings: 30 grind settings
Digital display: No
Type: Conical burr coffee grinder
Dishwasher safe: No
Brand: Smeg
Retailer: John Lewis & Partners
Price: £££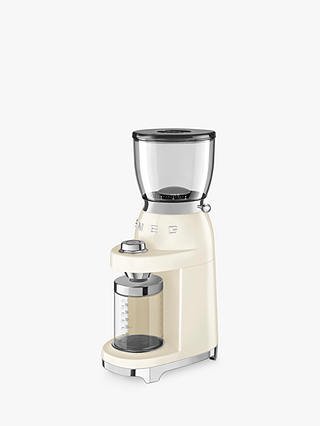 ---
This electric coffee grinder from Sboly offers a really intuitive and easy to use interface that powers what is a great all-round machine for all types of coffee grinding. The 19 different grind settings mean that you can experiment and find the exact right fit for you and your preferences. It's study, reliable, and can vary the grinding amount perfectly so you can be super efficient with your coffee beans. What's not to love here?
Grind settings: 19 grind settings
Digital display: No
Type: Conical burr coffee grinder
Dishwasher safe: No
Brand: Sboly
Retailer: Amazon
Price: ££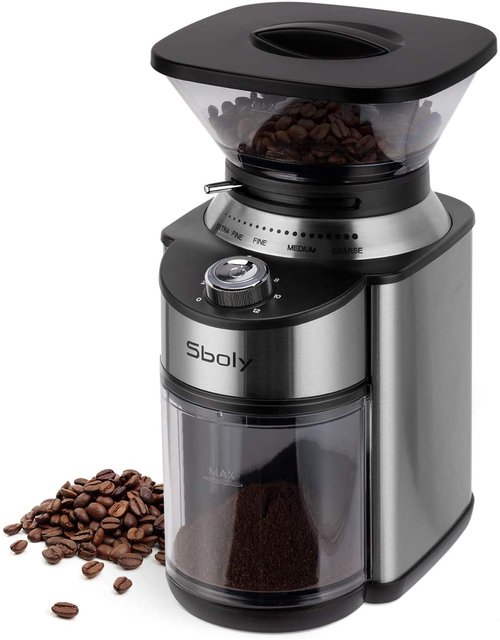 Best Manual Coffee Grinders
Best Manual Coffee Grinder
This coffee grinder is seriously underrated because of its simple design. But behind the scenes it's a really powerful manual grinder that combines a solid cast handle, a no-slip base, and a robust grinding blade into a really comfortable piece of equipment. It has various stepped grind settings so you can get the exact texture you're looking for, and its lower spring helps to tread that fine line between robustness and ease of use. This truly sits in the Goldilocks zone of manual coffee grinders.
Grind adjustment: Yes
Capacity: 100g
Brand: Hario
Retailer: Best Coffee
Price: ££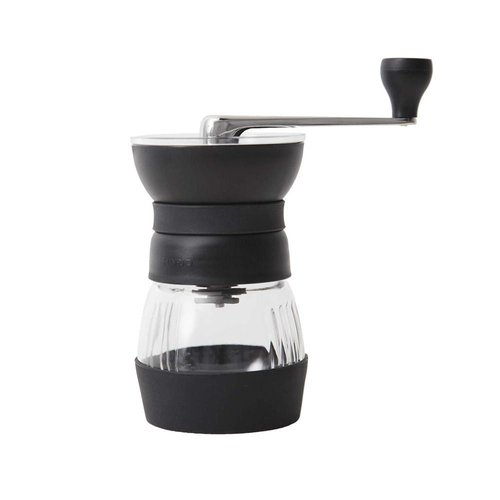 ---
This manual grinder from Hario is perfect for travel as it packs a lot of power into its very compact size. You'll get a consistent grind whenever your use it and its components come apart very easily to make the whole thing much easier to clean. They've spent a lot of time working on this design and have arrived at a simple, yet effective piece of equipment that will leave you feeling more connected to your coffee than ever and delighted with how the ground coffee comes out in the end. It's magical.
Grind adjustment: Yes
Capacity: 24g
Brand: Hario
Retailer: Best Coffee
Price: £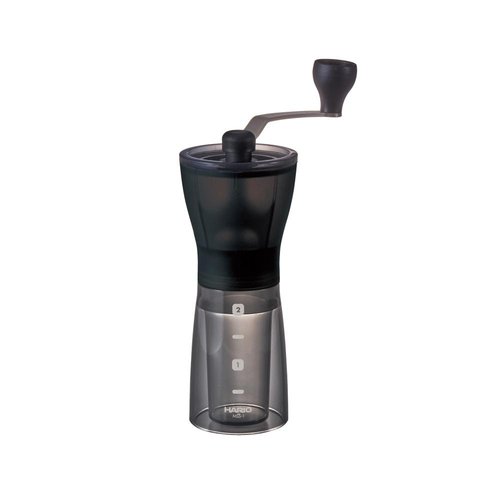 Keep updated with regular content...
We'll only get in touch when we've got something exciting to share, like exclusive discounts and competitions!
Buying Guide
Burr grinders, blade grinders, or manual grinders.
When you're buying a coffee grinder, the most important thing to figure out is whether you want to go with a burr grinder, a blade grinder, or a manual grinder. Each one has its own pros and cons and is suited to different use cases, so you'll need to identify your own coffee habits and pick the one that is best for you.
Burr grinders give you lots of control over the extraction so that you can find the right grind size to suit your preferences. They are also great for delivering a consistent grind size which is key if you want to have consistent results time after time. However, they do come at a premium price, so you'll have to cough up for these ones.
It's also worth noting that there are two types of burr grinders, namely conical burr grinders which have a cone-shaped ring that sits inside another cone-shaped ring, and flat burr grinders which have two flat rings of burrs that are parallel to the ground.

Blade grinders are much more affordable and easier to use than their burr counterparts which make them a popular choice for those on a budget. However, they do sometimes leave you with inconsistent grind sizes which can lead to over or under extracted coffee.

Manual grinders are naturally a bit more labour intensive than their counterparts, but what you lose there you gain in value for money and a deeper connection with your coffee.
How you brew your coffee.
The other part of your coffee preferences that make a difference here is how you like to brew your coffee. The choice of coffee machine between a bean to cup, pod, espresso, filter, and cafetiere variety will impact what sort of coffee grinder you should be looking for. Some machines don't require ground coffee or are even compatible with ground coffee, while others have a built-in grinder that does the work anyway.
We recommend that you find your ideal coffee machine first before you decide on a coffee grinder. Otherwise, you're just putting the cart in front of the horse.
FAQs
Which coffee grinder is the best?
Burr grinders are the best coffee grinders on the market because of their ability to create consistent size grinds every single time. This maximises the flavour profile and ensures consistency and control with every cup of coffee that you make. You get what you pay for, that's for sure.
How fine should I grind my coffee?
This all depends on what type of coffee you're looking to make. If you're looking to make an espresso, you'll need to have the coffee ground as finely as possible, whereas if you're looking to do a French Press or a Cold Brew, you'll need them much coarser. All the way along the spectrum, you'll find that different sizes suit different drinks so do your research and experiment a bit to find that perfect size for your liking.
Does grinding coffee finer make it stronger?
No, not necessarily. All it does is decreases the extraction time meaning you can brew the coffee quicker. This is because it reduces the surface area which makes it easier for the hot water to extract what it needs from the bean.
Is ground coffee the same as instant?
No, it is not. Ground coffee has not been brewed and so remains much closer to its raw form of coffee beans. Instant coffee, on the other hand, has already been brewed and dehydrated.
Conclusion
That brings us to the end of this review, and we hope that you've been able to use this information to select the perfect coffee grinder for your unique needs. All of the options listed above are great options – we only mentioned the best of the best according to online reviews, trusted sellers, and high-quality products. You can't go wrong with any of them.
Our personal favourites if we had to choose would be as follows:
Top Electric Coffee Grinder: Sage The Smart Grinder Pro Coffee Grinder
Top Manual Coffee Grinder: Hario Skerton Pro Ceramic Coffee Grinder
But regardless of what you choose, we know that a coffee grinder like the ones listed above will help to create that perfect cup of coffee that we all yearn for. Make the most of it and enjoy the magic that comes with perfectly ground coffee. Once you find that sweet spot, you'll never go back. Trust us.
Affiliate disclaimer: on some or all of the products above, we receive a small commission if you make a purchase via our site. This does not impact the price you pay, but it allows us to keep helping people by writing these reviews, so thank you!