If you want to keep your coffee simple and inexpensive, you won't find many options more suitable than the humble French press coffee maker – known to some as a cafetiere. For so many of us, coffee is a crucial component of day-to-day life and this little device is a great addition to your kitchen for some no-fuss coffee when you need it.
In this article, we'll run through the most important buying considerations and some tip-top recommendations for which one to go with for your unique needs. We've combed through the internet, doing all the research for you – so you can save the time you would have spent debating options and re-deploy that to enjoying world class coffee in the comfort of your own home.
Let's dive in.
In this review, we discuss;
Why Buy a Cafetiere?
More affordable than coffee machines.
Coffee machines can get expensive quickly, and so it's a relief to know that cafetieres are much more affordable than typical coffee makers. You'll get great value for money while still enjoying amazing coffee – a great option for those on a budget.
The eco-friendly choice.
When it comes to environmental sustainability, cafetieres are unmatched. They use less energy per cup than a traditional coffee machine and don't waste any coffee grounds in the process. Additionally, most French press machines will come with a built-in filter or use paper filters which are environmentally preferable. Lastly, if you're using a metal one, you're getting 35% more insulation than a glass one – leading to significant energy savings.
Easy and quick to use.
Cafetieres really are no-fuss options. Unlike some other machines with a thousand bells and whistles, these coffee makers are easy to use and can deliver great coffee in no time. It's perfect for those groggy mornings where you need something quick and convenient to set you up for your day ahead. We've also included an easy step-by-step guide at the bottom of this post to help you get the most out of your coffee maker.
The Hario French Press is delightfully minimalistic in terms of its design and overall aesthetic while not compromising on quality one bit. It's built from high-quality glass and an olive wood handle that makes your morning coffee ritual an absolute dream. An unexpected bonus is that you can also brew tea in here which is a boon for any non-coffee drinkers in your household. This particular variation is a 4 cup cafetiere, but they also have a 1 cup cafetiere version available if you're looking for something smaller. You really can't go wrong with either.
Serves: 4 cup cafetiere
Material: Stainless steel, olive wood and borosilicate glass.
Dishwasher safe: Yes.
Brand: Hario
Retailer: Best Coffee
Price: ££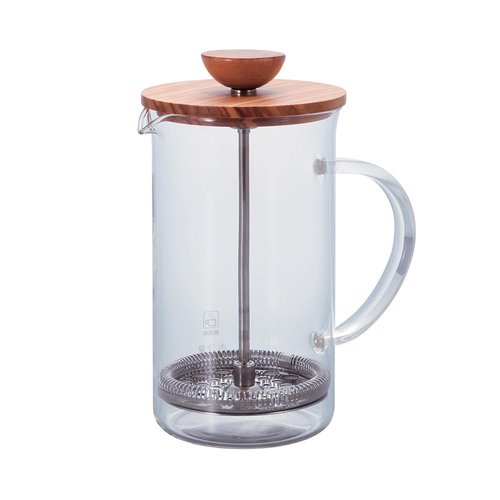 ---
This Bodum cafetiere has an industrial look and feel that should give you the comfort to know that your coffee is going to give you the boost that you need. It is shatterproof, leak-proof, but still light enough so as not to be a hassle. The stainless steel mesh filter gets you everything you need from your ground coffee and will provide enhanced flavours in every single cup. A Bodum cafetiere like this is a wonderful coffee maker and is robust enough to handle anything you can throw at it.
Serves: 3 cup cafetiere.
Material: Stainless steel, plastic, silicone, chrome-plated steel, glass.
Dishwasher safe: Yes
Brand: Bodum
Retailer: John Lewis & Partners
Price: ££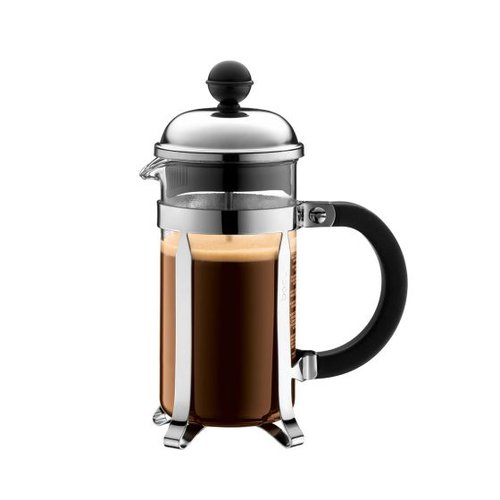 ---
If you've never seen a copper cafetiere like this, prepare to be blown away. The look is distinct and memorable and when combined with the amazing coffee it creates – it becomes a holistic experience that you won't want to miss out on. The coffee maker is made from heat resistant glass and a chrome plated frame to give it that shiny feel while still being sturdy and resilient to heavy use. In addition, you can get 8 cups out of this one so it's perfect for those who are making larger batches of coffee but don't want to sacrifice on quality. This one is for you.
Serves: 8 cup cafetiere.
Material: Heat-resistant borosilicate glass, chrome plated frame, stainless steel filter parts.
Dishwasher safe: Yes
Brand: Bodum
Retailer: Amazon
Price: £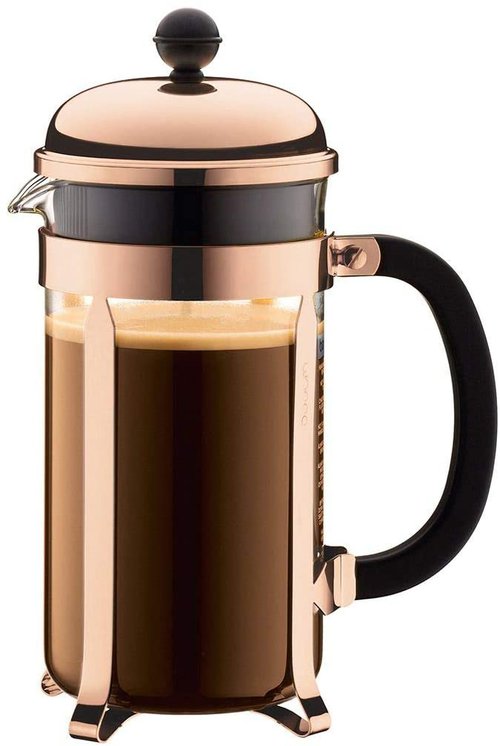 ---
The Le Creuset French Coffee press is designed for those who want to inject some vibrancy into those early mornings. As far as the coffee goes, it does a great job at delivering fresh, delicious coffee – but the real stand out is the colours that are available. You can get this coffee machine in volcanic orange, Marseille blue, Satin black, Teal, Cerise, Flint, and a range of others, meaning you can inject your own personality into your kitchen with just one appliance. For those who want to make a bold statement, this is a great option.
Serves: 8 cup cafetiere.
Material: Stoneware.
Dishwasher safe: Yes.
Brand: Le Creuset
Retailer: John Lewis & Partners
Price: £££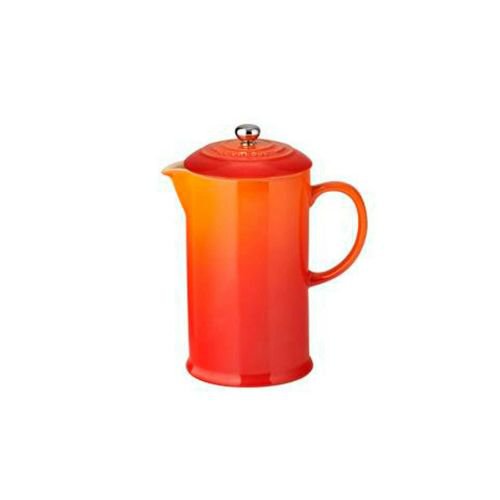 ---
The Homgeek French Press coffee maker is a really versatile device with two different filters and multiple uses including hot chocolate, fruit tea, lemonade, tea, and a range of other drinks beyond the coffee that it makes. It really does do it all and in such a compact, well-designed coffee machine. It packs a punch at a very affordable price. The double wall insulation keeps your coffee hot for longer while feeling cool from the outside. When it comes to variety and convenience, this one is difficult to beat.
Serves: 8 cup cafetiere.
Material: Double-walled stainless steel.
Dishwasher safe: No, hand wash only.
Brand: homgeek.
Retailer: Amazon
Price: £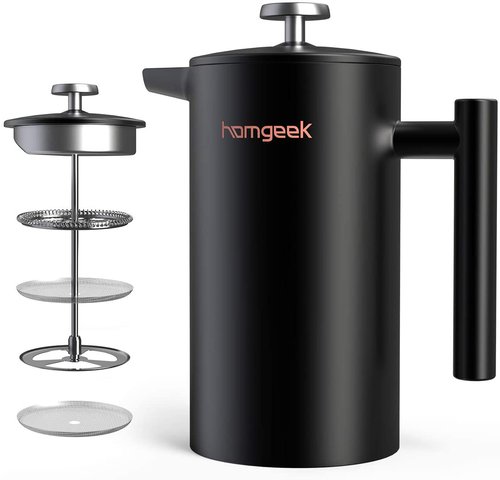 ---
The Bodum cafetiere for travel is the perfect on-the-go companion to get your French-pressed coffee wherever you are. The design is simple and minimalistic – focusing all of its efforts on convenience and portability. It's absolutely perfect as a cafetiere travel mug if you're taking a cup of coffee with you to work in the mornings. It doesn't try to be too much and delivers everything you might need in a travel mug. No fuss, just good coffee.
Serves: 3 cup cafetiere.
Material: Stainless steel, silicone.
Dishwasher safe: Yes.
Brand: Bodum
Retailer: John Lewis & Partners
Price: £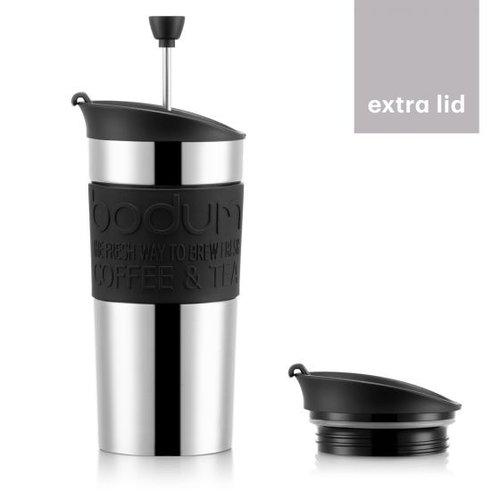 ---
This double-walled French press coffee maker from Soulhand stands out from the rest because of a few extra features that give it some extra sparkle. On top of the four level filter system which guarantees exceptional coffee every time, it has a built-in thermometer to accurate measure the temperature of what's inside, as well as an external digital kitchen timer which is incredibly useful in the mornings when you're running around trying to get ready. The jet-black design is also sleek and sophisticated rounding off a really great coffee maker.
Serves: 8 cup cafetiere.
Material: Stainless steel.
Dishwasher safe: No, hand wash only.
Brand: Soulhand
Retailer: Amazon
Price: ££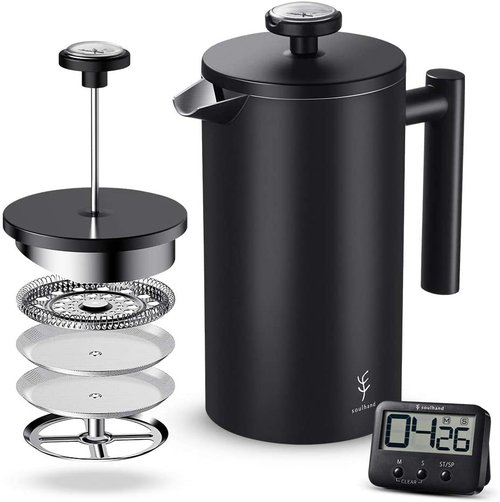 ---
This cafetiere travel mug looks incredibly compact and function-focused, using its double-wall stainless steel vacuum insulation to keep your coffee hot for hours. It's a simple device that just gets the job done and fits perfectly into your on-the-go lifestyle. It's robust, leak-proof, and easy to use – ticking all the boxes that you need for a great travel mug. Add to it the two stage extraction blocking micro filter and you'll be amazed at just how good the coffee tastes coming out of this one. It's something that you won't quite believe until you try it.
Serves: 3 cup cafetiere.
Material: Stainless steel.
Dishwasher safe: No, hand wash only.
Brand: Espro.
Retailer: Amazon
Price: ££
Keep updated with regular content...
We'll only get in touch when we've got something exciting to share, like exclusive discounts and competitions!
Buying Guide
How many cups you want to make
A key consideration when you're buying a cafetiere is to identify how many cups you need in each batch. This will depend on when you're making your coffee, how much you typically drink, and potentially how many other people you are making for at the same time. Each model has a slightly different capacity, so be sure to get one that can handle however many cups you need to make at one time. That way, you'll never run out when you need, and you won't waste coffee unnecessarily. Find that sweet spot.
Glass or stainless steel
Typically cafetieres are either made of glass or of stainless steel, so you'll want to consider the pros and cons of both types before making a decision. Glass is the more traditional option, which is less resistant to knocks and bumps, and will shatter if you happen to drop it. Stainless steel on the other hand is more robust and provides more insulation – which is better for conserving heat and energy, but you won't be able to see how much coffee you have without removing the lid and peering in. Stainless steel tends to be more practical for these reasons, but many people like the look of the glass one – so it really comes down to your personal preference.
Your budget
Of course, all buying considerations should take into account how much you're willing to spend. There are French press coffee machines across all levels of the spectrum and so it's important to reflect on how important your coffee is to you, and what you current financial situation is like – to decide how much you can afford to spend. Then cater your picks accordingly. If you feel french press coffee makers are hitting the right budget for you, you may also be interested in our article on The Best Filter Coffee Machines at a similar price point on the whole.
At home or on the go
The context also matters. If you typically drink your coffee at home, then you can go with a larger, home-based version that sits on your kitchen counter and doesn't move. However, if you're often drinking your coffee on the go, then you'll want to consider the travel mug options that can give you that cafetiere taste but out in the real world. What you sacrifice in size, you gain in portability.
FAQs
What is the best French press coffee to water ratio?
This can come down to personal preference, of course, depending on how strong you like your coffee – but a good rule to follow in most cases is to aim for a 1:15 ratio of coffee to water. That means that for every 1 gram of coffee that you're using, aim to add 15 ml of water. Test out that ratio and see how you like it, and then adjust from there if necessary.
What coffee do you use in a French press?
A French press needs ground coffee in order to be used effectively. Try and ensure that the grounds are relatively coarse and evenly ground, because that's going to give you the most consistent results. Stay away from any ground coffee that is too fine, for example – what is used for espressos.
How to Use a French Press (Step by Step Guide)
The first step is to pre-heat your French press. To do this, add some hot water to the press and swirl it around until it is hot to your touch. Once you are happy, discard the water.
Then you should measure out the amount of coffee you'd like to make, being as precise as possible so you get the right quantity at the right ratio.
Next, you should measure the water in the same way – aiming for a 1:15 ratio if you're unsure. Heat the water to your liking.
Now, you add the coffee grounds into the press and pour the water over it in one go.
Give your coffee a quick stir to make sure that all the coffee is below the water line.
Now, place the lid onto the press and start a timer for around 4 minutes. You can adjust this depending on how you like your coffee, but 4 minutes is a good average to start with.
Once the time goes off, slowly press the plunger down all the way to the bottom.
Finally, you can decant the coffee as you wish and serve it into a mug of your choice.
Now, sip the nectar of the gods and feel that warmth and energy fill your body!
Conclusion
That brings us to the end of our wandering journey through the world of French press cafetieres. We hope that you've gotten some value out of the considerations and recommendations above because they come from a lot of research into the best of the best that are available to you. Every single one has been vetted for trusted sellers, user reviews, and the quality of the product itself.
Our personal favourite is the Hario French Press Olive Wood which doesn't try to be anything that it's not. It combines style, design, function, and convenience into one compact package that creates world-class coffee time and time again. If you're stuck with all the options, go for this one – it's truly sensational.
But regardless of which one you go for, all the options in this article are great in their own way and are sure to give you those exquisite moments of coffee-fueled joy that we all know and love. Get out there and enjoy the magic of the French Press!
Affiliate disclaimer: on some or all of the products above, we receive a small commission if you make a purchase via our site. This does not impact the price you pay, but it allows us to keep helping people by writing these reviews, so thank you!