Filter coffee is a hotly debated topic. There is a huge range of filter coffee makers in the market, each with their own dedicated fan base who will go to the ends of the earth to stand behind their favourite. Filter coffee remains a very personal drink, one that is the lifeblood of our day to day and so it's important that you find the right one for you.
In this article, we'll break down the state of the filter coffee maker industry and deliver our thoughts on the very best on offer. We've combed through the internet, identifying the best of the best, corroborating it with thousands of user reviews, and pulling out the key components that make a great filter coffee machine.
Let's get into it.
Why buy a filter coffee machine?
Most affordable coffee machine
Coffee makers can get expensive quickly, and filter coffee makers are the most affordable type of coffee machine by a long way. They are able to pack great quality and taste into a much cheaper product because they use ground coffee – delivering tremendous value for money as a result.
Caters to your taste buds
The process of using a filter coffee maker is very hands-on and so you can fine-tune your perfect cup of coffee to absolute perfection. By choosing the amount of coffee, the amount of water, and the filters that you use – you can arrive at the cup of coffee that caters specifically for your taste buds and revel in the magic of having a cup of coffee designed just for you.
Easy to clean
Most filter coffee makers use filters that can be thrown away after a few uses, but there has been a significant shift towards reusable metal filters which are even easier to clean. When it comes to the rest of the machine, you can easily clean the various chambers using vinegar or a descaling solution, which makes the whole experience that much more pleasant.
Top 8 Filter Coffee Machines
Best Overall Filter Coffee Machine
The Sage Precision Brewer Coffee Maker is widely considered one of the best filter coffee machines on the market and it earns that moniker thanks to a very easy to use interface, as well as a wide range of brew settings for you to get that perfect cup of coffee that you deserve. Sage is a highly respected manufacturer and they've used all their experience to deliver a really great product here. A nice little bonus is that the coffee maker can also brew 'over ice' if you're looking to get extra fancy.
Serves: 12 cups.
Machine type: Drip-brew filter coffee machine.
Permanent filter: No, purchase separately.
Keep-warm plate: Yes, programmable keep-warm time.
Cleaning: Manual.
Time feature: Yes, digital timer display.
Price: ££££
Retailer: Amazon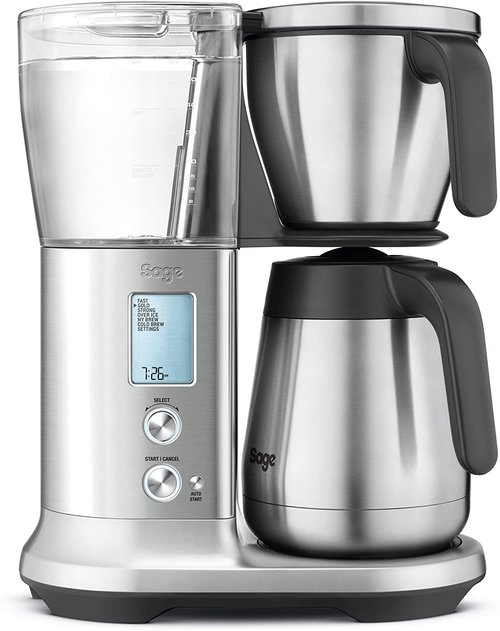 ---
You won't find a filter coffee maker that looks better, trust us. The 50s retro aesthetic is available in 7 different colours and it's bound to liven up your kitchen while also delivering excellent coffee time after time. The interface is a bit more complicated than some others, but it has many of the advanced features that people have to love such as the timer and auto shut off. As far as filter coffee makers go, the design here is what wins the day. It's a conversation starter, that's for sure.
Serves: 10 cups.
Machine type: Drip-Brew Filter Coffee Machine.
Permanent filter: No, purchase separately.
Keep-warm plate: Yes, hot plate – keeps coffee warm for up to 60 minutes.
Cleaning: Manual.
Time feature: Yes, digital timer display.
Price: £££
Retailer: Currys PC World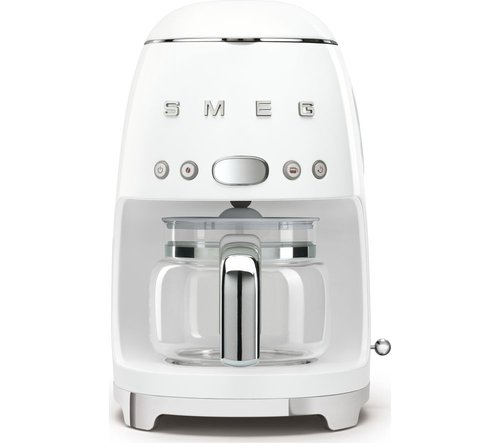 ---
The Pour Over Filter Coffee Maker from Morphy Richards looks like it comes from the future. It has a sleek and compact design that is bound to bring a level of class to your kitchen. The coffee it makes can be customised to your taste because of its adjustable strength and range of features that are packed into the device. You get such wonderful value for money with this coffee maker, it's one of the most affordable items on this list and it's a fan favourite for those on a budget.
Serves: 12 cups.
Machine type: Pour Over Filter Coffee Machine.
Permanent filter: Yes, but you can use additional disposable filters if you'd like.
Keep-warm plate: Yes, hot plate. Keeps the coffee warm for up to 25 minutes.
Cleaning: Manual.
Time feature: Yes, digital timer display.
Price: ££
Retailer: Amazon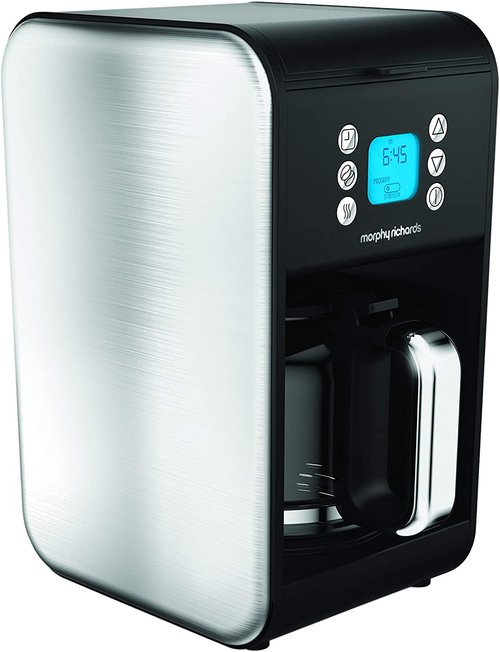 ---
This pour over coffee maker comes straight out of your typical Italian café and it oozes sophistication. It doesn't have any of the fancy features that some of the automated machines have, but what it lacks in functionality it makes up for in taste. This is for coffee fanatics who want to indulge in the coffee making ritual and savour every last second of it. The cork band around the outside is a nice touch that is ideal for insulation, but also deserves its place on your Instagram feed.
Serves: 8 cups.
Machine type: Pour over Filter Coffee Machine.
Permanent filter: Yes - fine mesh, stainless steel.
Keep-warm plate: No.
Cleaning: Manual.
Time feature: No.
Price: £
Retailer: John Lewis & Partners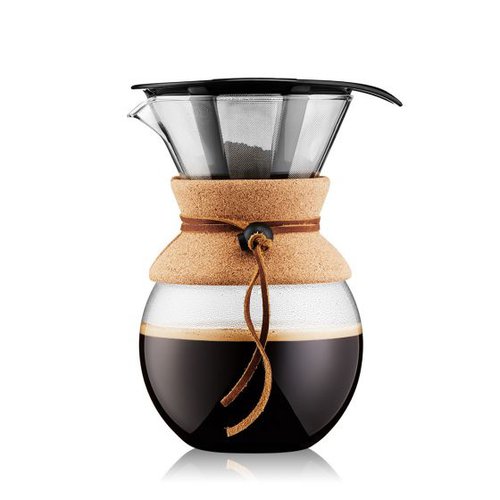 ---
De'Longhi is one of the most respected coffee machine manufacturers in the world and this is one of their gems. The Clessidra Coffee Machine may have a smaller capacity than some other coffee makers, but that's the whole point. This is for coffee fans who aren't making for the whole office, but just for one or two people. You get the dynamite of a De'Longhi coffee packed into a compact design that gets the job done. If you're looking for value for money, without sacrificing on quality, then this just might be your perfect fit.
Serves: 10 cups.
Machine type: Pour Over Filter Coffee Machine.
Permanent filter: Yes.
Keep-warm plate: Yes, hot plate – keeps coffee warm up to 40 minutes.
Cleaning: Manual.
Time feature: No.
Price: ££££
Retailer: John Lewis & Partners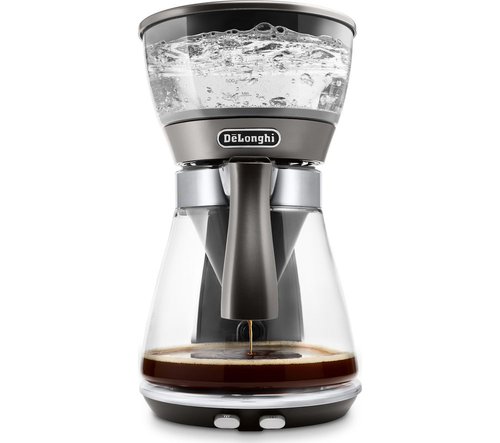 ---
Best Cheap Filter Coffee Machine
This coffee maker has all the bells and whistles with a wide set of advanced features that you wouldn't normally find at this price point. At the touch of a button, you can have great coffee in your mug in no time. And when you're done, you don't have to worry about cleaning – because it has a built-in cleaning system to remove limescale and return the machine back to its pristine starting condition.
Serves: 10 cups
Machine type: Drip-Brew Filter Coffee Machine.
Permanent filter: No, purchase separately.
Keep-warm plate: Yes, programmable keep-warm time.
Cleaning: Descaling Program.
Time feature: Yes, digital timer display.
Price: ££
Retailer: AO.com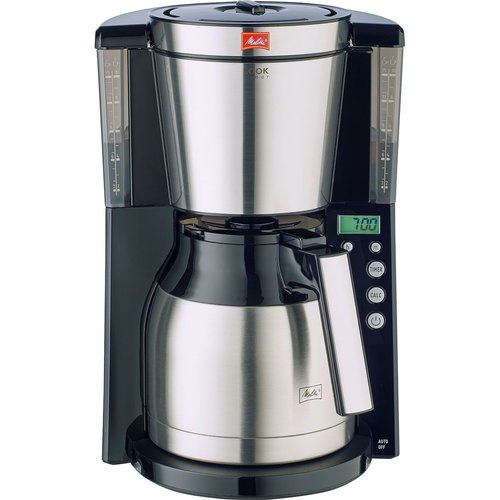 ---
This is an absolute bargain in our perspective. If you're looking for a cheap filter coffee machine with a large capacity and all the necessary features, then look no further. This machine from Breville delivers exceptional quality and a surprisingly good design for something at this price point. It's easy to use, maximises flavour, and creates great coffee every time. You wouldn't regret going with this one – it's a really good choice for a lot of people.
Serves: 12 cups.
Machine type: Drip-brew filter coffee machine.
Permanent filter: Yes.
Keep-warm plate: Yes, programmable keep-warm time.
Cleaning: Auto Cleaning Function.
Time feature: Yes, digital timer display.
Price: ££
Retailer: Currys PC World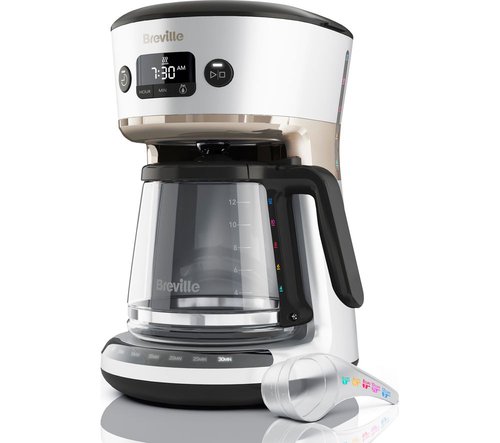 ---
This filter coffee machine is specifically designed to give you your favourite pick-me-up as you're running out the door. It's compact, easy-to-use, and comes with a thermal travel mug for you to grab and go. But don't think that it sacrifices any quality for these added benefits – it still delivers exceptional filter coffee in just the way that you like it. If you're often on the move, this might be your best bet because you'll know that from a coffee perspective, you've always got your bases covered.
Serves: 1 cup.
Machine type: Drip-Brew Filter Coffee Machine.
Permanent filter: Yes.
Keep-warm plate: No.
Cleaning: Manual.
Time feature: No.
Price: £
Retailer: Amazon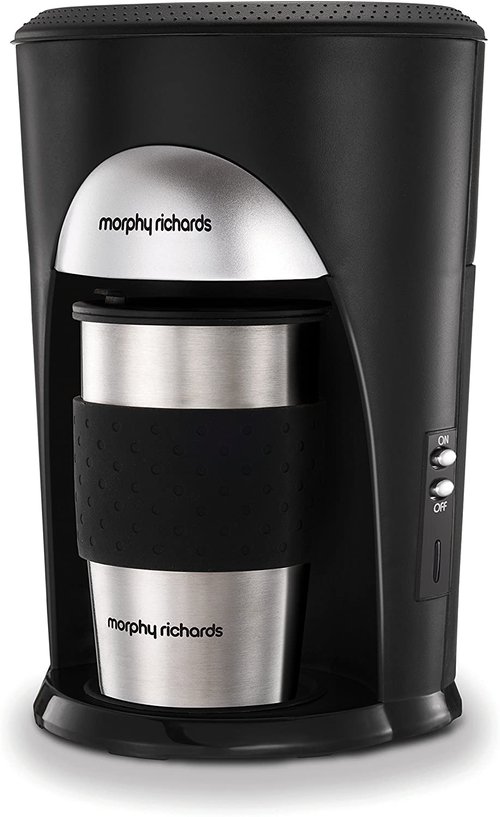 Keep updated with regular content...
We'll only get in touch when we've got something exciting to share, like exclusive discounts and competitions!
Buying Guide
Types of Filter Coffee Machine
There are three different types of filter coffee machines each with their own unique characteristics:
Drip-Brew Filter Coffee Machines are those that you'll find most commonly. These are your classic filter coffee makers that heat the water and let it drip onto the ground coffee which you've put into the filter basket. After a little bit, the coffee drips into jug below where its ready for you to enjoy. This is the most affordable option and so many go for it because of convenience, but the quality of the coffee can be a little bit inconsistent depending on the machine you get.
Pour-Over Filter Coffee Machines are slightly fancier than their drip-brew counterparts as they use a manual process called the 'pour-over' where the coffee is wetted prior to the water being poured over it. When you pour, you do so slowly and methodically which attempts to provide a fuller and richer taste. These machines make really delicious coffee but they also tend to take a lot more time than traditional filter coffee makers do. These machines are definitely best for people who enjoy the ritual and are willing to spend a bit more money.
Grind and Brew Filter Coffee Machines blend both parts of the coffee making process into one machine – grinding the beans and then brewing the coffee. This process ensures incredibly fresh coffee and for some coffee connoisseurs – this is an absolute necessity to get the best taste. However, the process of grinding the beans is noisy and a bit of a nuisance, which can be a deal breaker if you're just trying to wake up in the morning.
What to Consider When Buying
How You Like Your Coffee
The most important thing to think about when buying a filter coffee machine is how you like your coffee. Most machines have a number of preset modes that can help in finding the coffee that suits you, but these vary across machines with some offering more customisation than others. The most advanced machines will allow you to adjust the temperature, flow rate and contact time to arrive at a cup of coffee perfectly suited to your palette. So, if that is important to you, be sure to get a machine with advanced functionality. However, if you aren't picky and you're just looking for something simple to start your day, you can save a lot of money by choosing a machine with fewer settings that just gets the job done.
If you're a little more advanced in your coffee making journey and are looking to take the taste of your coffee at home to the next level, Bean to Cup Coffee Machines are designed to create an even deeper taste for the real coffee connoisseurs. Take a look at our article on the Best Bean to Cup Coffee Machines to compare.
How many cups you want to make
Consider how many cups you'd like to make in each batch because machines vary in their size and capacity. If you're just making coffee for yourself and one other person then you can go with a smaller machine that costs less and will waste less. But if you're making for a larger group of people, you'll want something with a lot of capacity to satisfy everyone. It's also worth keeping in mind that if people around you like their coffee differently to how you do, you may need to brew separate batches as required.
Permanent filters or reusable ones
This consideration will impact how easy the machine is to clean. If you're using a disposal filter, then you can just throw the filter away and you're ready to go. With a permanent filter, you'll have to clean the machine on a regular basis. There are also cost implications because if you're going to be using disposable filters, then that's going to be a recurring cost that you should factor into your decision. There are many different types of filters available of different sizes and thicknesses – all of which can affect the taste. They are also differentiated between being bleached and unbleached with the latter being much more environmentally friendly.
We recommend that it's often better to go with a permanent filter, because you can still switch it out for a disposable one if you want – it just gives you the freedom and flexibility to change your mind, or to experiment with different setups as you look for that perfect cup.
Your budget
Of course, your budget is going to play a big role here as well. Most of the common features such as a digital timer, a keep-warm plate, or an auto shut-off can be found in the cheaper varieties. But if you're looking for more advanced functionality like automatic cleaning programmes, pour-over capability, and the like – then you'll need to go with something on the higher range.
Ask yourself how frequently you're going to use the machine and what really matters to you. Are you just looking for the smell of coffee to wake you up in the morning and it's purely to fuel you? Or do you want to tailor the perfect cup of coffee and revel in its taste? Use that to guide your budget decision – so that you get the value for money you deserve.
FAQs
Is filter coffee the same as ground coffee?
Filter coffee and ground coffee are very similar in nature – the only difference being in the size of the coffee granules. Filter coffee traditionally uses beans that are roasted and then cracked into smaller pieces to be brewed easily in a filter coffee machine. Ground coffee, as the name suggests, refers to beans that have been ground down into a very fine powder. There is a difference in taste, but it really comes down to personal preference.
How to use a Filter Coffee Machine (Step by Step Guide)
Add water to your coffee machine. You can use any type of water, but filtered water is slightly better to avoid build-up in the machine.
Add a filter into the filter basket. Assuming you're using a disposable filter, put it into the filter basket and spread it out so it covers the whole base.
Measure out your coffee depending on how much you're trying to make. If in doubt, check the machine for the perfect ratio.
Pour the coffee of your choice into the filter and close the lid.
Using the interface on the coffee machine, select your preferred settings and start the machine.
Once the machine is finished, remove the jug from its holder and pour your coffee into a mug of choice.
Enjoy your steaming cup of goodness!
Conclusion
So, there you have it. There is a wide range of different filter coffee makers and drip coffee makers for you to choose from. Each one comes with its own unique characteristics and is designed for different use cases. Your best bet is to identify what really matters to you about your coffee, how much you're willing to spend, and what features you're looking for. Then you can make the right decision for you.
All the options we've listed above are as a result of extensive research, taking into account user reviews, brand reputation, and the quality of the product. You won't go wrong with any of them. If we were choosing for you, we'd select these as our top picks:
Best advanced filter coffee machine: Sage Precision Brewer Coffee Maker
Best budget filter coffee machine: Melitta Look IV Therm Timer Filter Coffee Machine
The machine from Sage is a modern marvel and will give coffee connoisseurs everything that they need to make truly great filter coffee on a regular basis. The price you pay is well worth it for the quality and style of the machine. On the other end of the spectrum, the budget option from Melitta is a very rare bargain that provides exceptional value at a very affordable price. If coffee is not the be all and end all for you – but it's a necessary part of your morning, then this can be a great option that doesn't break the bank.
No matter what you go with, we hope that you've gotten some value from this guide and that it helps you make your buying decisions. Getting good coffee into your system is a joy and with one of these machines, it's never been easier to maximise that enjoyment.
Affiliate disclaimer: on some or all of the products above, we receive a small commission if you make a purchase via our site. This does not impact the price you pay, but it allows us to keep helping people by writing these reviews, so thank you!