When we imagine highly classy Italian men in those movies, it's the espressos they hold delicately in their hands that often spring to mind. It's an aspirational drink for a reason and when done well – it can be a truly one-of-a-kind coffee experience. Luckily, in today's marketplace, there are a number of espresso machines that can bring that magic to your home day after day so you too can feel the sophistication and class that it brings.
Espresso machines are a completely different beast to bean to cup machines, filter coffee makers, or even pod machines – because they rely much more on manual tinkering than their automatic counterparts. It's much more of an experience and a hobby – than merely a type of drink.
In this article we are going to focus our attention on some of the best pump espresso machines available on the market. We've very intentionally chosen to ignore steam based espresso machines for this review because pump machines are just that much better for espressos. We only want to bring you the best of the best, of course.
Ready to get stuck in? Alright. Let's go.
What is a pump coffee machine?
A pump coffee machine is a superior version of the more common steam based espresso machine because it has separate systems for generating the pressure required and for controlling the water temperature. These machines generate brewing pressure with an electric pump that when combined with the ideal water temperature, creates high-quality espresso every time.
In this review, we discuss;
Why buy an espresso machine?
Enjoy the experience.
Making an espresso is more than just a drink, it's an experience or ritual that you can enjoy. For so many, the act of making espresso at home is an art and a hobby – which you can master over time to create truly special coffee experiences. You can grind, tamp, and craft your perfect cup and if you're feeling extra creative, you can use a steaming wand to explore micro foam art as well. There is so much joy to be had if you're a coffee fan.
Great tasting coffee.
The espresso holds a special place in coffee lore and is known as one of the more superior tastes that you can find. This is because it is minimally extracted and you're getting the first brew to come out of the grounds. This holds more flavour and makes for what some call the ultimate version of coffee. It's how it was meant to be. Additionally, you can customise your process however you'd like in order to arrive at your perfect cup.
Reliable machines.
Espresso machines tend to be much more reliable than their bean to cup or capsule counterparts because less is automated and you can take full control of each part of the process. You can also opt for a separate grinder as opposed to a built-in one, which removes yet another common place of error. All in all, you can achieve more consistent coffee quality time and time again.
This Sage espresso machine looks like it comes from the future with all its buttons, knobs, and levers. For the espresso lover who wants to fine-tune everything for that perfect cup – this is a dream come true. The flexibility it allows means that you can choose your strength, temperature, texture, and so much more. Add to this a micro-foam steam wand and you can add your unique latte art as the cherry on top. It's truly a comprehensive machine with all the bells and whistles you could hope for.
In-built grinder: No.
Steam wand: Yes.
Water tank capacity: 2.5 litres
Compatible with pods: No.
Brand: Sage
Retailer: Best Coffee
Price: ££££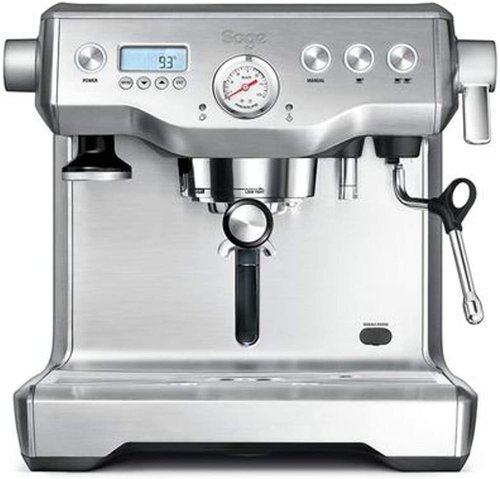 ---
This particular pump espresso coffee machine combines elegant simplicity with robust stainless steel to create a great all round espresso machine. It comes with a tamper and a built-in milk frother so you can enjoy espressos, cappuccinos or lattes to your heart's content. The milk tank allows users to vary milk quantity according to your taste so you can get to the exact flavour that you want. It's a great all-round option, you can't go wrong.
In-built grinder: No.
Steam wand: No.
Water tank capacity: 1.2 litres
Compatible with pods: No.
Brand: John Lewis & Partners.
Retailer: John Lewis & Partners
Price: ££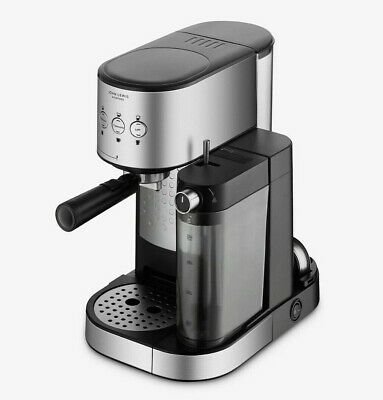 ---
This little espresso machine feels like it's pulled right out of an Italian café and is a great example of how the right vintage machine can transform your kitchen counter for the better. The machine can control the water temperature precisely and gently infuses the coffee for a full and balanced flavour – while still retaining the creamy texture that you know and love. It can also make a latte, a flat white, or a cappuccino so you'll be spoiled for choice – that's for sure.
In-built grinder: No.
Steam wand: Yes.
Water tank capacity: 2 litres.
Compatible with pods: No.
Brand: Breville
Retailer: Currys PC World
Price: £££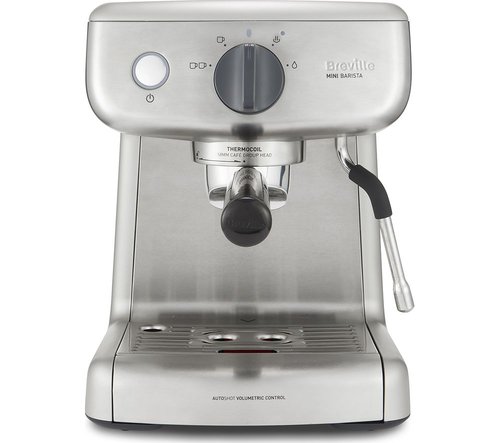 ---
Sage always delivers high-quality coffee makers and this one is no exception. It's a compact and easy-to-use manual espresso maker that just gets the job done. There are no complications here – just a really good machine for getting that espresso that you deserve. One of the most impressive things is that the machine has a 3 second heat up time which is incredible, if you think about it. Before you know it, you'll have a deep, rich, and luxurious flavour filling your body – all thanks to one of the best coffee makers Sage has ever produced.
In-built grinder: No.
Steam wand: No.
Water tank capacity: 1.9 litres.
Compatible with pods: No.
Brand: Sage.
Retailer: Amazon
Price: ££££
---
This coffee machine from De'Longhi is small in size, but don't let that fool you – it makes really exceptional espressos. What it lacks in capacity, it gains in character and when you consider the fact that it is also compatible with pods, you've got yourself a machine that punches well above its weight. The stylish metal finish completes the image and you arrive at a coffee maker that will fit right into the life of a modern professional.
In-built grinder: No.
Steam wand: No.
Water tank capacity: 1 litre
Compatible with pods: Yes.
Brand: De'Longhi
Retailer: Currys PC World
Price: £££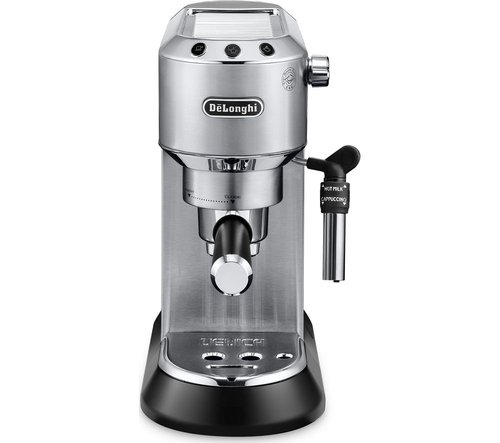 ---
This espresso machine really stands out because of the colour that you can bring to your kitchen. It can transform ground coffee or coffee pods into delicious tasting drinks up there with the rest of them, but it also has a character all of its own. If we didn't know better, we might even think it was a work of art. Have a look at the black, pastel blue, cream, red, pink, green, or white and you'll be amazed by just how they've married the function and aesthetic to create a truly unique espresso maker. You wouldn't be disappointed if you were to go with this one.
In-built grinder: No.
Steam wand: No.
Water tank capacity: 1.5 litres.
Compatible with pods: Yes.
Brand: Smeg
Retailer: John Lewis & Partners
Price: ££££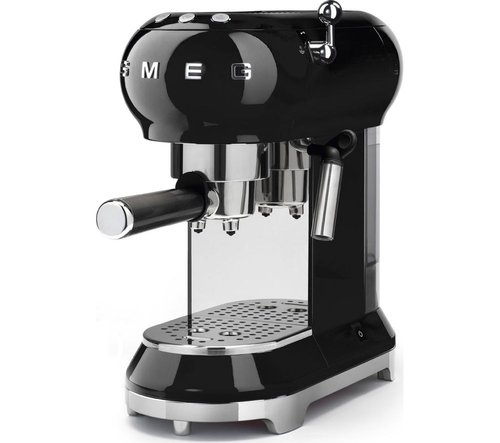 ---
The Opio Steam and Pump coffee machine from Krups boasts a wide range of adjustable settings so you can tailor things exactly to your liking to get that perfect espresso. The additional steam nozzle also helps to create indulgent, frothy milk that takes things to the next level. It's a really capable machine that comes with a tamper and can deliver consistently with every single use. Customers love it for good reason, it's a great choice for so many.
In-built grinder: No.
Steam wand: No.
Water tank capacity: 1.5 litres.
Compatible with pods: No.
Brand: Krups
Retailer: Amazon
Price: ££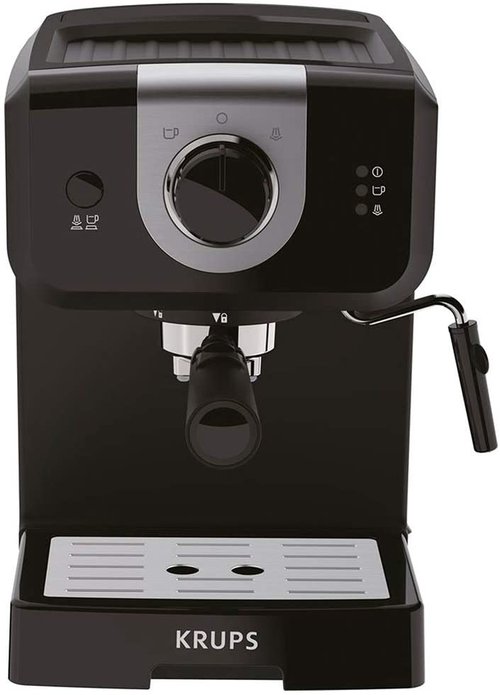 ---
This pump espresso maker has a sleek design that is stylish and sophisticated – which is just the vibe that you want for your morning coffee. Combine its good design with a built-in milk frother and a warming tray, and you've got everything you need to create wonderful coffee experiences on the regular. And if all else fails, you've got a piece of art in the form of a sleek black and stainless steel machine to draw the eye.
In-built grinder: No.
Steam wand: No.
Water tank capacity: 1.25 litres.
Compatible with pods: No.
Brand: John Lewis & Partners.
Retailer: John Lewis & Partners.
Price: £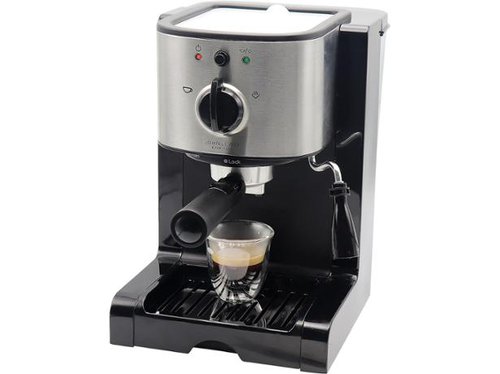 Keep updated with regular content...
We'll only get in touch when we've got something exciting to share, like exclusive discounts and competitions!
Buying Guide
Bean to cup or pump espresso machine.
The first decision you have to make on your coffee machine journey is on the type of machine that you want. Bean to cup coffee machines are those that grind the beans in real time and brew coffee from the raw ingredients. These tend to be fully automated machines and tend to be the best option for those people who just want the machine to handle everything. We've written about these in another article on bean to cup coffee machines – so check that out if it's of interest.
Pump espresso machines, on the other hand, are much more manual which gives coffee fanatics the chance to tailor their espressos perfectly, according to their unique taste. The who thing becomes an experience and ritual, which is great for some people. However, it does require more time and effort to master the art of being a home barista – so bear that in mind.
Lastly, we have focused on pump coffee machines for this guide because they do make better quality espressos, but you also have an option to go with a steam only espresso machine if that's more your style.
Grinding your coffee.
The way your coffee is ground is going to change the way your espresso tastes. Ideally for an espresso you want to grind it as finely as possible in order to get the most out of the flavours. This is because the granularity affects the pressure at which the coffee is made – which directly impacts the taste.
You've got three options here. You could buy an espresso machine with a built-in grinder, you could buy an espresso machine and a grinder separately, or you can buy pre-ground coffee and skip that step altogether. Each option has pros and cons but we recommend either buying a high-quality machine with an in-built grinder or buying one separately if you want to get the most out. Pre-ground coffee just doesn't have the same impact. Additionally, it's worth noting that lower quality espresso machines with in-built grinders tend to break down sooner than others – so bare that in mind while you make your decision.
If you're going to get a separate grinder, there are a wide variety of these on the market ranging from electric to handheld, and everything in between. We are going to be covering grinders in detail here on the site in the near future – so keep an eye out for that!
Just espresso or other drinks too.
Another thing you'll want to consider is if you are only planning to make espressos, or if you'd like to make other drinks too. These could include lattes, flat whites, cappuccinos, cortados and the like. If you want to make milky drinks like this you'll need to consider two additional factors.
Firstly, do you want a steaming wand or a milk frother? Steaming wands are great for making micro foam art, and some machines come with milk frothers but not all of them. You can also get a milk frother separately if you want to.
Secondly, you'll need to decide between a single boiler and a double boiler. Double boilers let you move from brewing to steaming without having to wait for the unit to heat, whereas with a single boiler you'll have to wait that little bit of extra time. This matters if you're going to be making batches of drinks for larger groups or if your coffee making tends to be in a rush.
Espresso machine for home use.
If you don't know what you're looking for, it can be a bit complicated getting the right machine for home use as there are a lot of machines out there designed for an office use case or other similar uses where there is heavy usage. As a result, it's important to check three factors when you're buying an espresso machine for your home:
Firstly, what is the water capacity? For a home machine you want to go for a smaller water tank that it is more manageable for your needs. There's no need to get a large tank or one that is plumbed in as that would be overkill.
Secondly, consider the portafilter. This is where you ground coffee goes when you're done with making your coffee. For home-based machines, the size of the portafilter really doesn't matter because you're not making large quantities – so don't be swayed by marketing that boasts commercial grade portafilters. They just aren't necessary.
Lastly, be sure that your machine has a reliable pressure gauge which can tell you when your grinding size or tamping isn't correct. This is as important for home-based machines as it is for commercial ones because it directly impacts how your espresso is going to taste.
Your budget.
Lastly, it comes down to how much money you're willing to spend. For those who love espressos they'll be willing to spend a lot of money for a machine that gets it just right, but if you've gotten this far in the guide and realised that they aren't quite for you, then perhaps you'd be better suited with one of the following coffee machine types, all of which are cheaper than espresso machines:
Filter coffee machines are the most affordable of the lot and are often considered the lower end of the range when it comes to flavour. These machines are ideal for those who use coffee as fuel for the day and aren't too concerned about the nuances of more gourmet flavours. It's quick, easy, and gets the job done.
Coffee pod machines accept pods of ground coffee which are automatically transformed into delicious drinks with just one push of a button. These are the most convenient machines out there and are perfect for those who just want to press a button and be enjoying their coffee a few moments later.
Bean to cup machines can do it all, from grinding the beans to brewing the coffee – all on the basis of automated processes that you select as options. They generate some of the freshest coffee out there and are a great choice for those who want the authentic experience but without having to do things manually themselves.
FAQs
How fine should I grind coffee for espresso?
In most cases the finer, the better – because this increases the pressure required to push the water through the filter – creating a good crema as a result. However, be wary of going too fine because then the coffee can block the filter which is less than ideal. You should be aiming for something that resembles a mixture of sugar and beach sand, as strange as that might sound.
What is the ideal pressure for espresso?
This is a hotly debated topic and it really depends on who you talk to, but the industry standard for espressos tends to be 9 bars. Some believe that 15 bars of pressure arrives at a superior taste but that really does come down to personal preference. Try a couple different options and see what you like best as an individual.
Is espresso stronger than coffee?
Yes, technically it is. Because of the way that it is made, an espresso contains more caffeine than normal coffee on a per ml basis – and that's why people tend to drink much smaller portions than they do of normal coffee. It can be an acquired taste because of this strength because it really does pack a punch – but that's the magic of it.
Conclusion
That wraps up our whirlwind guide through the espresso machines that so many use to indulge in their coffee fascination every single day. Every insight and recommendation above comes from a lot of research into sellers, brands, user reviews, and quality evaluations – so you can be sure that any of the products mentioned above are great options if you're looking to get yourself an espresso machine of your own.
If you were to push us for our favourite, we'd almost definitely go for the Sage the Dual Boiler Espresso Machine because of how flexible and versatile it is - it really is the espresso makers dream, with all the bells and whistles for a sublime cup of coffee for you, your friends and the whole family. If quality and taste is top of your list, shop no further.
Nonetheless, every single machine mentioned is great in its own way and we don't think you could go wrong with any of them. Take the time to identify your own needs and preferences and then match them to the research above to find the one that is ideal for you. If you do that, you'll be sure to end up with something that brings the joy of espresso to your tastebuds and to your belly every single day. It's magical when done right.
We hope you enjoy!
Affiliate disclaimer: on some or all of the products above, we receive a small commission if you make a purchase via our site. This does not impact the price you pay, but it allows us to keep helping people by writing these reviews, so thank you!