Coffee pods have taken the world by storm in recent years and have really transformed how people get their daily dose. Pod collections have almost become pieces of art adorning kitchens of all types and in order to turn those into something special, you need a coffee pod machine that facilitates the whole process. In this article we'll look at these coffee pod machines, unpacking the very best ones available across the three main brands of Nespresso, Dolce Gusto, and Tassimo, as well as some of the lesser known gems.
Within each category, we've combed through the range of different machines, pulling the most important buying information for you to identify the perfect match for your coffee habit.
Let's jump into it.
Which is Better Nespresso, Dolce Gusto or Tassimo?
It's really difficult to say which brand is better because they all have different tastes and flavour profiles that set them apart from one another. It really depends on your budget, preferred flavours, and your personal preference. Dolce Gusto offers a broader range of different coffee types, whereas Nespresso focuses on a fewer number but at a higher quality and a higher price. Tassimo is less focused on espresso than the other two and gives a more traditional coffee flavour at a slightly lower price.
Why Buy a Capsule Coffee Machine?
Simple and Convenient
Coffee pod machines are incredibly simple and straightforward because all you do is insert the capsule and in no time, you've got delicious coffee in your hands. It's an affordable and compact way to get your daily fix and it's arguably got even less friction than bean to cup coffee makers – perfect for those groggy early mornings.
Consistency in taste
Every single pod has exactly the same amount of coffee, so whichever of the wide variety of flavours you like, you can be assured that you'll get that same consistent taste that you enjoy. There's no guessing, the quality of the cup remains solid every single time.
More than just coffee
These machines can do much more than just coffee, which makes them very versatile and good for entertaining. Most brands will offer capsules for hot chocolate, milky drinks like caramel macchiatos, or even tea! It's great for the whole family, even if they don't drink coffee.
Top 8 Capsule Coffee Machines
Best Nespresso Compatible Machines
Nespresso is known in the coffee pod market as the premium brand. Coffee connoisseurs will swear that you get a really special taste profile from the brand and we can't help but be charmed by those cheesy George Clooney adverts. When it comes down to it, you're paying more than the average to get coffee pods that provide a sophisticated taste without compromise. Let's look at the machines that make it happen:
This sleek and compact design disguises what is really a quite sophisticated capsule coffee maker. It uses the Nespresso Vertuo capsules and comes with 5 programmable cup sizes to give you all the variety you're looking for. It's fast to use, blends the coffee perfectly, and when you use it – you'll have gourmet quality coffee in your cup in no time. And we can't not mention the red finish. It's bold, authentic, and stands out so that you feel even more fancy than you feel.
Capsule brand: Nespresso
Capsule cost: From 33p.
Drink types: Five (Alto, Mug, Gran, Espresso, Double Espresso)
Capacity: 1.2 litres
Milk features: No milk frother.
Capacity for used capsules: 10 capsules.
Retailer: AO.com
Machine price: ££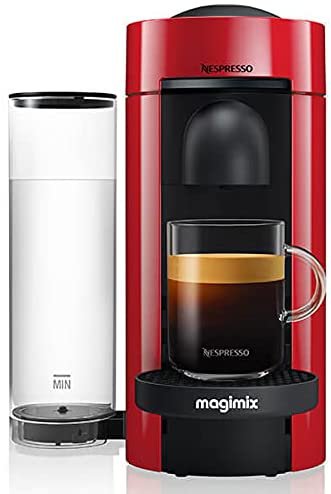 ---
This coffee machine is smart in more ways than one. The main drawcard is the ability to work it with an app on your phone so you can get your coffee started while you're still in bed using the Bluetooth functionality. But that gimmick is just the start, it still provides everything you might expect from a sleek and stylish Nespresso machine. For a premium price you really get a premium coffee experience in the comfort of your own home. It delivers perfect coffee every time, what's not to love?
Capsule brand: Nespresso
Capsule cost: From 33p
Drink types: Four (Ristretto, Espresso, Lungo, Americano)
Capacity: 1.2 litres
Milk features: Yes, in-built milk frother.
Capacity for used capsules: No, used capsule ejected automatically.
Retailer: Currys PC World
Machine price: ££££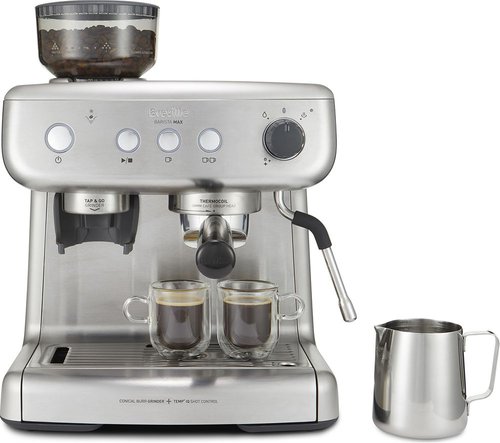 Best Dolce Gusto Compatible Machines
Dolce Gusto coffee pods are a firm favourite for so many because of the wide variety of different taste experiences you can unlock. A Dolce Gusto compatible coffee machine opens the door to over 30 different coffee tastes at your leisure. It's magical, quite frankly.
This futuristic coffee maker brings the magic of Dolce Gusto pods to life for great quality coffees with a thick velvety texture. The machine allows for precise control of the preparation process so you can create a taste that suits you perfectly. It's compact, well-designed, and very easy to use. It ticks all the boxes that you need including energy-saving functions to keep things as lean as possible. It's smaller than some others, so keep that in mind, but if you're only making small portions of coffee then this is a perfect choice.
Capsule brand: Dolce Gusto
Capsule cost: From 27p.
Drink types: Eight (Ristretto, Espresso, Lungo, Americano, Cappuccino, Macchiato, Hot Chocolate, Tea)
Capacity: 0.8 litres.
Milk features: No.
Capacity for used capsules: None.
Retailer: Amazon
Machine price: ££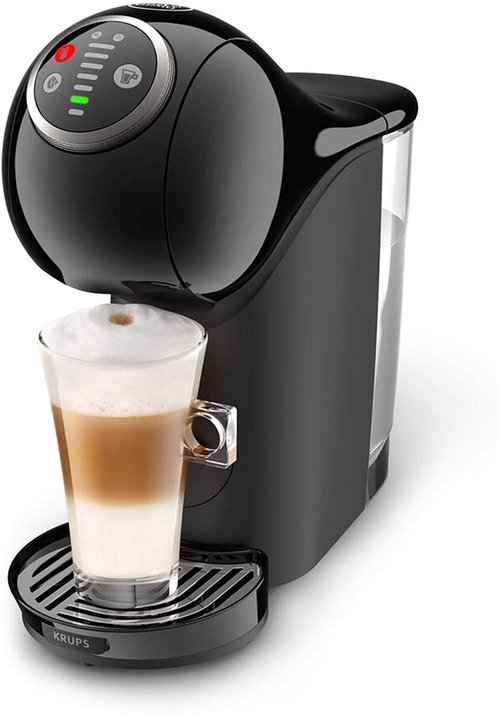 ---
This compact coffee pod machine comes with a range of pods included to get you started immediately on your journey to delicious home-brewed coffee. It's called Mini Me for a reason because it's a really small machine that is designed to deliver a perfect portion of coffee for you to grab as soon as it's done. It comes from the renowned De'Longhi so you know you'll get high-quality craftsmanship from top to bottom. For individuals or couples, this a great little addition to your arsenal, and with the pods that come with you can test out some flavours to find your personal favourite!
Capsule brand: Dolce Gusto.
Capsule cost: From 27p.
Drink types: Four.
Capacity: 0.8 litres
Milk features: None.
Capacity for used capsules: e.g. 10 capsules
Retailer: Amazon
Machine price: ££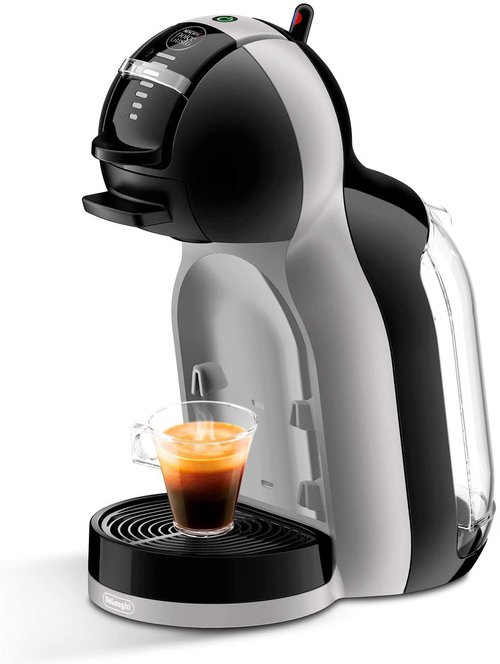 Best Tassimo Compatible Machines
Tassimo coffee machines don't get the credit they deserve as they tend to live in the shadow of the bigger names, but for those who look into them – there is tremendous potential in their coffee machines. They give a fresh and unique taste that will blow you away if you let it. But first, you need to get yourself a Tassimo compatible machine:
This coffee pod machine is basically fool-proof. Using a bar code reader, it can scan the particular pod that you insert and then adjust the settings accordingly so that your coffee comes out perfectly every single time. It's a very easy process and things just work, so you'll never have any issues getting to the taste you want. They stand a bit from the crowd with their flavoured coffees which are quite unique and have garnered quite a fanatical fan base – so if you're looking for something a little out of the ordinary, this is a really good place to start.
Capsule brand: Tassimo.
Capsule cost: From 21p.
Drink types: Many.
Capacity: 0.7 litres.
Milk features: Tassimo milk pods.
Capacity for used capsules: No.
Retailer: AO.com
Machine price: £££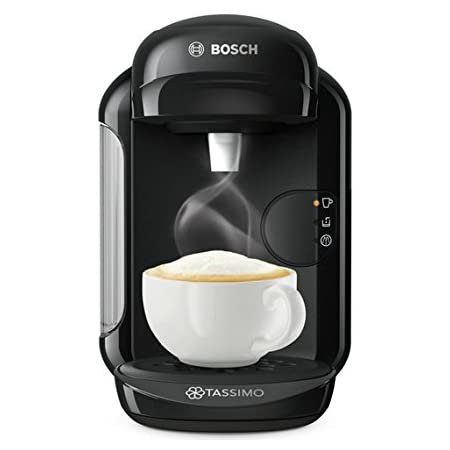 ---
The Tassimo Happy coffee machine brings a certain wistfulness to the coffee game because it doesn't take itself too seriously. Don't get us wrong, it still delivers excellent coffee, but it does so in a playful way. The compact design and wide range of features gives a fantastic combination of customisation and convenience at a really good price. If you're looking for good deals, you'll be hard pressed to find many better than this one.
Capsule brand: Tassimo.
Capsule cost: From 21p.
Drink types: Eight (Caffe crema, Cappuccino, Coffee, Espresso, Hot Chocolate, Hot Milk, Latte Macchiato, Tea)
Capacity: 0.7 litres
Milk features: Tassimo milk pods.
Capacity for used capsules: Yes.
Retailer: Currys PC World
Machine price: £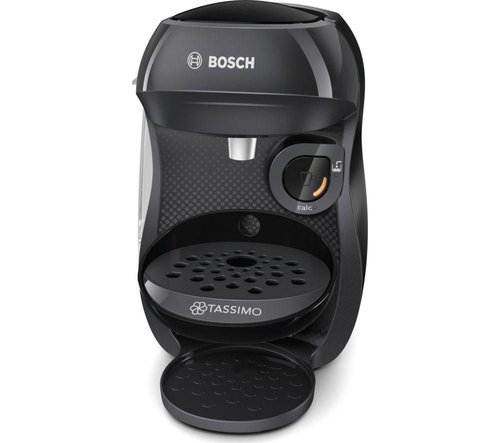 Best Other Coffee Pod Machines
We couldn't forget some of the other brand names because there are some real gems out there if you're willing to look for them. Here are our two favourites:
This coffee pod machine feels like it should belong in an Italian café and when you bring that energy into your own kitchen, you're going to be amazed at how it feels. It's a premium product that comes with an integrated milk frother, a number of drink choices, and an elegant design that really stands out from the rest. It's available in three colours so you can pick which one you like and let it lull you into each day with some near-perfect cappuccinos and espressos.
If you're put off by the price, there's also a smaller, simpler, lower cost model of the same machine that certainly packs a punch. No matter which one you go with, you won't be disappointed – this is a truly remarkable coffee machine.
Capsule brand: Lavazza.
Capsule cost: From 27p.
Drink types: Four (Espresso, Cappuccino, Americano, Latte)
Capacity: e.g. 0.5 litres
Milk features: Yes, in-built milk frother.
Capacity for used capsules: 10 capsules
Retailer: John Lewis & Partners
Machine price: ££££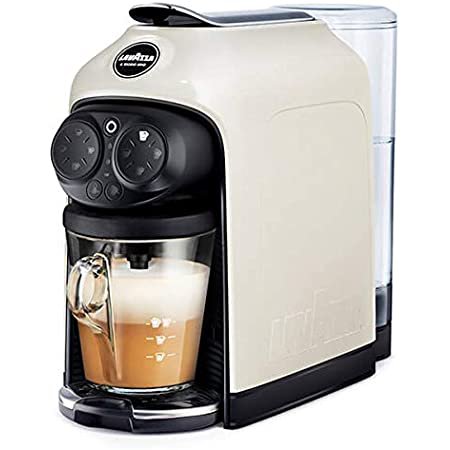 ---
The Dualit 4 in 1 delivers really good quality coffee on a consistent basis and there's not too much more you can ask for in a coffee pod machine. It boasts an integrated milk frother which makes it perfect for lattes and cappuccinos, but it also performs really well on other types of coffee. The name really does say it all – it's an all-round performer that is well-built, well-designed and it benefits from a range of sustainable pods including compostable versions of Dualit's own pods and recyclable versions of Nespresso pods. It's a great machine and would be a good purchase for most coffee lovers.
Capsule brand: Dualit.
Capsule cost: From 22p.
Drink types: Four.
Capacity: 1.5 litres.
Milk features: Yes, in-built milk frother.
Capacity for used capsules: e.g. 10 capsules
Retailer: Amazon
Machine price: ££££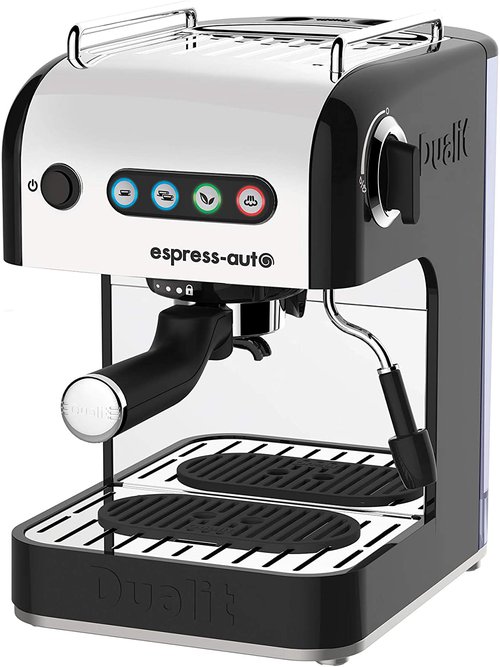 Keep updated with regular content...
We'll only get in touch when we've got something exciting to share, like exclusive discounts and competitions!
Buying Guide
Your preferred coffee pods
When you buy a capsule coffee machine you're essentially committing to a certain type of pods and each brand comes in different varieties, prices, and tastes. As such you need to decide what pods you prefer before you select a machine. The grid right at the top of this post should help! If you don't have any strong preferences around the taste of your coffee then we'd recommend opting for a machine that's compatible with Dolce Gusto, Tassimo, or other relatively cheap capsules and avoid Nespresso. But if you love the Nespresso taste and are willing to pay for it, then make sure you get a compatible machine.
What you like to drink
Your preferred drinks will also play a role here as some machines can take capsules that make a wide variety of drinks other than Coffee. Dolce Gusto is a good example here as they are well known for the variety of different drink options you have. Think about who else in your family might want to make use of the machine and whether they might enjoy hot chocolates, teas, etc. If that's the case, then make sure that the machine you choose offers that versatility.
Your environmental impact
The vast majority of coffee pods end up in landfills and so coffee pod machines are typically seen as less environmentally friendly than other machines like reusable filter coffee machines or bean to cup coffee machines. Some coffee pod manufacturers have started introducing recycling schemes as can be seen in the grid at the very top of this post, but these can be few and far between depending on where you live and how you buy your coffee. All that being said, there are increasingly recyclable, reusable, or compostable coffee pods entering the market and so that's an exciting development to look for. At the end of the day, consider your environmental impact when making your purchasing decision, especially if it's going to become a daily habit.
Your milk preferences
There is a variety of options and features when it comes to milk such as whether the machine has a milk frother or if one can be bought separately, a steam wand, built-in milk carafes, or even milk pods. Your preference will dictate which machines are right for you so be sure to do your research before you buy.
Your budget
Be sure to consider how frequently you drink coffee and whether this machine is going to save you money compared to buying coffees on the go. Remember that the pods/capsules are going to be a regular expense so factor that into your calculation. If budget is a concern, you might want to go for less expensive machines such as filter coffee machines or even cafetieres (also known as French press coffee makers) which don't require capsules. Equally, you may be intrigued to learn more about some of the premium coffee machines such as the bean to cup coffee machine designed for the freshest tasting coffee.
It all comes down to how much coffee you drink and how important it is to you – then your budget should follow from that.
FAQs
Do coffee pods fit all machines?
No, coffee pods differ depending on the brand and so it's important that you ensure that your chosen pods are compatible with your coffee machine. There are certain pods which are compatible with more than one brand, but this is rare. Typically the brand-specific pods are only designed for their own machines.
Conclusion
Well, there you have it – the battle of the pods has ended. As you can see, there is a great variety in this world of coffee pod machines and each one comes with its own unique quirks and preferences. When you're choosing the right one for you, be sure to consider the criteria we've listed above and take our recommendations into account because we've spent a lot of time and research identifying the best of the best according to reviews, trusted sellers and the quality of the products. You won't go wrong with any of the options listed in this guide.
Our personal favourite is the Lavazza A Modo Mio Deséa Espresso Coffee because of its premium feel, integrated milk-frother, and all around design excellence. It's a wonderful machine that is worth every penny.
That being said, the perfect capsule coffee machine for you might be different depending on what you're looking for so hopefully this guide was helpful! Grab your favourite machine, your favourite pods and let the coffee adventures begin.
Affiliate disclaimer: on some or all of the products above, we receive a small commission if you make a purchase via our site. This does not impact the price you pay, but it allows us to keep helping people by writing these reviews, so thank you!