There are few things better in life than that perfect cup of coffee. When done right, it's like liquid gold down your throat, setting you up to take on the world. Imagine you could consistently get that perfect cup of coffee in the comfort of your own home? Well, you can. Bean to Cup coffee makers bring the magic of artisanal coffee into your kitchen, so you never have to compromise with a hastily made cup of instant coffee. Instead, you get the best of the best.
In this guide, we've done all the hard work for you, scouring the internet to find the very best bean to cup coffee makers available. No matter what your budget, or coffee preferences, we've got something for you here.
What does bean to cup mean?
Bean to cup refers to a coffee machine that can do it all. The machine grinds the beans, makes the coffee, and serves it into a cup of your choice, in an automated fashion. It's easy to use and makes for the freshest coffee you can imagine as it grinds the beans right there in front of you. It gives an unparalleled taste that you simply can't get with other types of coffee makers.
In this review, we discuss;
Why buy a bean to cup coffee machine?
Simple and Convenient
You want a simple process when you're a bit groggy in the morning and a bean to cup coffee maker makes it incredibly easy. They are designed to simplify your coffee making and with just the press of a button, the machine will take on everything from grinding to pouring. They are much quicker than most coffee making machines and some of them can even take ground coffee as well – making them the all-rounder that people love so much.
Superior Taste and Freshness
Because the beans are ground right there on the spot, bean to cup coffee machines retain the rich flavour profile that makes coffee so special. Nothing is watered down or lost in the process, you can get barista-quality coffee in your home on a regular basis.
No need for capsules
From an environmental perspective, getting rid of the plastic or aluminium pods is a big win because often those capsules aren't fully recyclable. In addition, the coffee process is also greatly simplified across the value chain because you eliminate all the steps along the way that add complexity, cost, and carbon emissions. A simple bean to cup process is much more sustainable, so you can drink your favourite coffee with peace of mind. This is not even to mention the fact that the variety of beans are so much wider than pods, so you can find the perfect taste for your palette, without restrictions.
Top 8 Bean to Cup Coffee Machines
Best Cheap Bean to Cup Coffee Machine
The De'Longhi Magnifica delivers an incredible range of features at a price that's hard to believe. This machine can really do it all because it includes an integrated grinder and a milk frother – giving it the ability to deliver a wide range of coffee types with ease. At this price point, it's part of coffee royalty. Add to this the fact that it has an automated cleaning function which descales, cleans, and rinses – and you've got yourself one hell of a contender.
Coffee varieties: 11 coffee types
In- built milk frother: Yes
In-built grinder: Yes
Pressure: 15 bar
Multiple cup brewing: No
Brand: De'Longhi
Retailer: Amazon
Price: £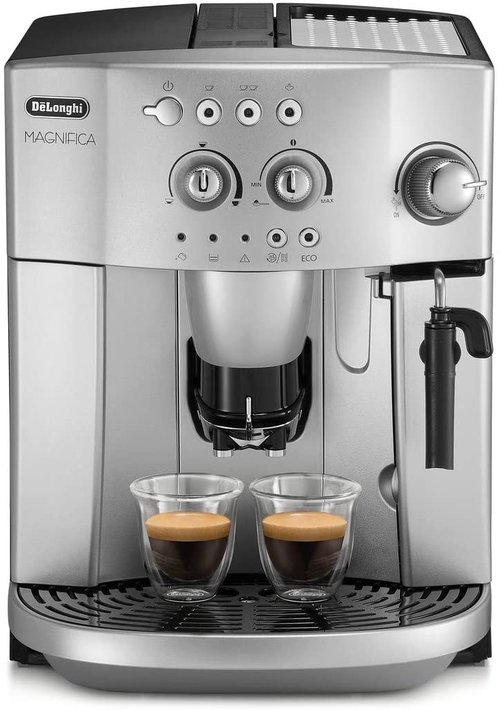 ---
The Breville Barista Max has a distinctive style that you just can't miss. Its stainless steel outside offers a robust casing for what is an incredibly capable coffee maker on the inside. The machine boasts a large water tank and quick pressure meaning that your favourite coffee but a few seconds away whenever you need it. It has an integrated grinder and milk frother, and can also take beans or ground coffee, which is a nice bonus. The star of this show is without doubt the espressos it can deliver – definitely some of the best in the business. So, if that's what gets you through the day, then this is a great choice for you.
Coffee varieties: 7 coffee types
In- built milk frother: Yes
In-built grinder: Yes
Pressure: 15 bar
Multiple cup brewing: No
Brand: Breville
Retailer: Currys PC World
Price: £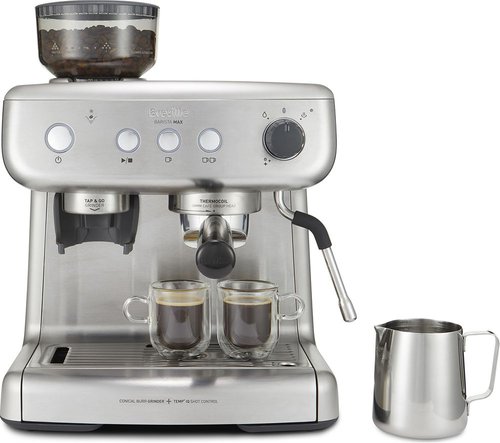 ---
The brushed steel exterior of this coffee machine makes you feel like you're soaking in the sun at a quaint European café, but the coffee it makes is anything but quaint. This machine can handle both beans and ground coffee, creating masterpieces every time that it operates. The thermocoil heating system is one of the best in its class and that gives you carefully controlled water temperatures which leads to much more consistent results. There's also the nice bonus of having a cup warmer to get your mug to the perfect temperature to accept its prize. All in all, it's an infinitely customisable coffee maker that won't disappoint.
Coffee varieties: 10 coffee types (Americano, Cappuccino, Flat White, Latte, Latte Macchiato, Lungo, Macchiato, Ristretto, Single or Double Shot)
In- built milk frother: Yes
In-built grinder: Yes
Pressure: 15 bar
Multiple cup brewing: Yes
Brand: Sage
Retailer: AO.com
Price: ££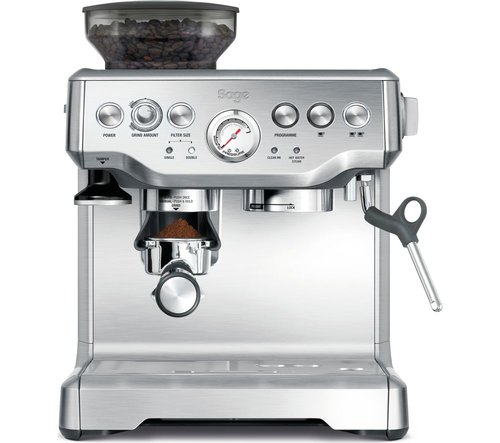 ---
Best De'Longhi Bean to Cup Coffee Machine
The De'Longhi Dinamica is compact but powerful and makes some of the best coffee we've ever tasted. It has really intuitive touch controls which are your portal to a cup coffee perfectly suited for you. Whether it's coming from beans or ground coffee, this machine created barista-quality drinks without fuss. What makes it special is that you have programmable strength options that you can save on the machine – so that once you've fine-tuned your coffee to perfection, you can be assured of that same taste every single time. And that pesky cleaning process? Don't worry. The automatic rinse, cleaning, and descaling makes all of that a breeze. This is the best option from the De'Longhi range and one that delivers joy in a cup, every time.
Coffee varieties: 7 coffee types (Espresso, Coffee, Long Black, Cappuccino, Caffe latte, Latte Macchiato, Flat White) in a range of different strengths and configurations.
In- built milk frother: Yes
In-built grinder: Yes
Pressure: 15 bar
Multiple cup brewing: No
Brand: De'Longhi
Retailer: Currys PC World
Price: ££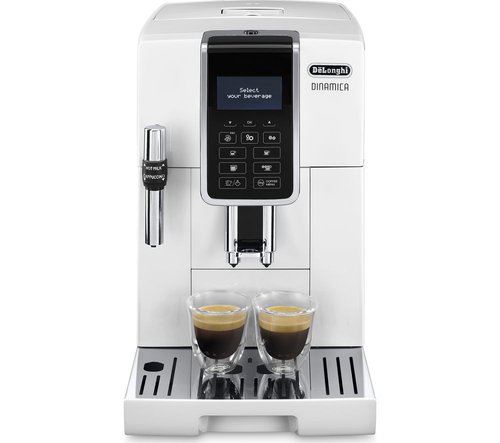 ---
The De'Longhi La Specialista is a powerhouse when it comes to making coffee. It's designed specifically for coffee fanatics with its wide range of settings and 19 bar pressure which makes for premium coffee delivered just how you like it. Your personalised coffee settings on the machine ensure that you can be as finicky as you want, because you deserve to have your hot drinks exactly as you want them. The advanced latte system also means that you can create any type of milk foam you want, even if you are using plant-based alternatives. It's pure Italian magic and will no doubt become a crucial part of your morning routine – giving you the energy you need to take on the day.
Coffee varieties: 8 coffee types (Americano, Cappuccino, Coffee, Cortado, Espresso, Espresso Macchiato, Flat White, Latte Macchiato)
In- built milk frother: Yes
In-built grinder: Yes
Pressure: 19 bar
Multiple cup brewing: Yes
Brand: De'Longhi
Retailer: Currys PC World
Price: £££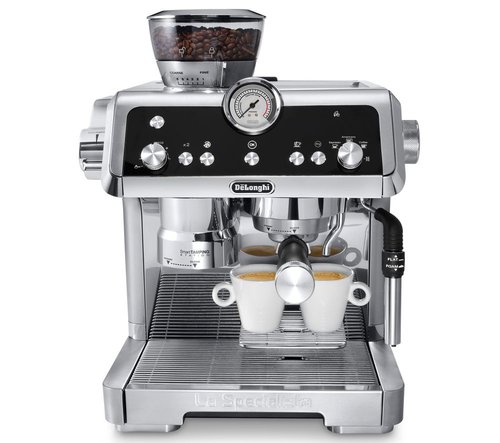 ---
This is coffee from the future. The Melitta Barista is a smart coffee maker that connects to your smartphone so you can get your coffee started before you even get out of your bed. The app lets you control everything from the strength of your coffee to the moment at which you add your milk. With 21 pre-programmed coffees to choose from, you'll never be without variety. It's a compact machine that delivers consistent results with its thermoblock heating system that manages temperatures to your liking. What's not to love?
Coffee varieties: 21 coffee types
In- built milk frother: Yes
In-built grinder: Yes
Pressure: 15 bar
Multiple cup brewing: No
Brand: Melitta
Retailer: AO.com
Price: £££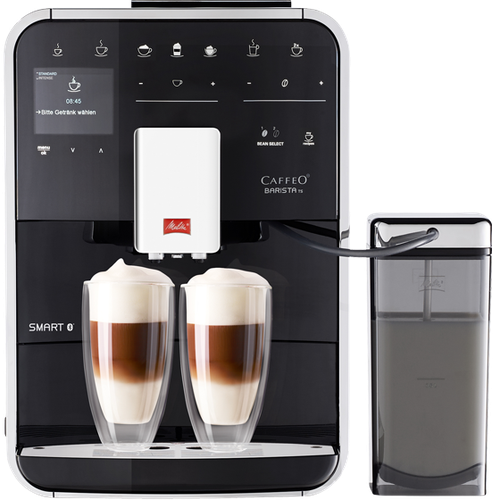 ---
Best Overall Bean to Cup Coffee Machine
The Sage Barista Touch is a beast of a coffee maker. It combines Italian-style stainless steel with a modern touch interface to give you a coffee machine that is as sturdy as it is creative. You can easily adjust your coffee strength, type, milk texture, or temperature to find the combination that makes your heart soar. The automatic microfoam milk texturing creates the best foam of any coffee maker out there, which is great news for those aspiring latte artists out there. This machine makes the sort of coffee that deserves the spotlight on Instagram. It's fast, efficient, and wonderfully made. You won't find a better bean to cup coffee maker, trust us.
Coffee varieties: 11 coffee types (Americano, Cappuccino, Cold Brew Coffee, Espresso, Flat White, Hot Chocolate, Hot Milk, Latte, Macchiato, Milk Froth, Ristretto)
In- built milk frother: Yes
In-built grinder: Yes
Pressure: 15 bar
Multiple cup brewing: Yes
Brand: Sage
Retailer: John Lewis & Partners
Price: ££££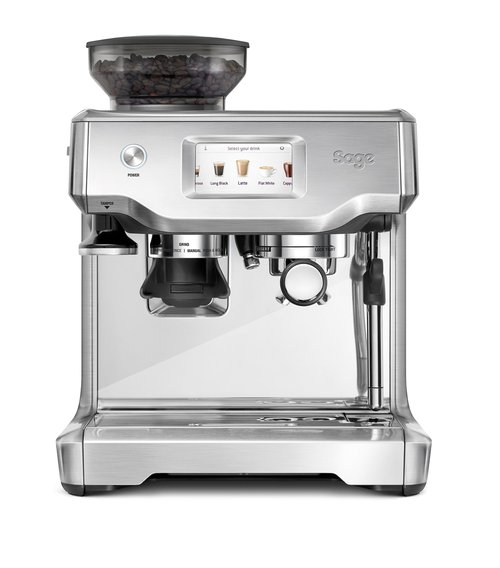 ---
If you're looking for professional barista status in your own home, then look no further. The Sage Oracle Touch is a comprehensive bean to cup coffee maker that uses automation and careful temperature and pressure control to deliver world-class coffee on demand. With just a touch of a button, you can choose from a range of different options, slowly tweaking settings over time until you zero in on your perfect cup. It's difficult to describe just how much personalisation is possible here, you have to experience it to truly understand. With this machine you'll get the convenience of bean to cup coffee, but at the quality level of bespoke, artisanal, barista-made coffee. It's expensive for a reason – the value you get is immense.
Coffee varieties: 11 coffee types (Americano, Cappuccino, Cold Brew Coffee, Espresso, Flat White, Hot Chocolate, Hot Milk, Latte, Lungo, Macchiato, Milk Froth)
In- built milk frother: Yes
In-built grinder: Yes
Pressure: 15 bar
Multiple cup brewing: Yes
Brand: Sage
Retailer: John Lewis & Partners
Price: ££££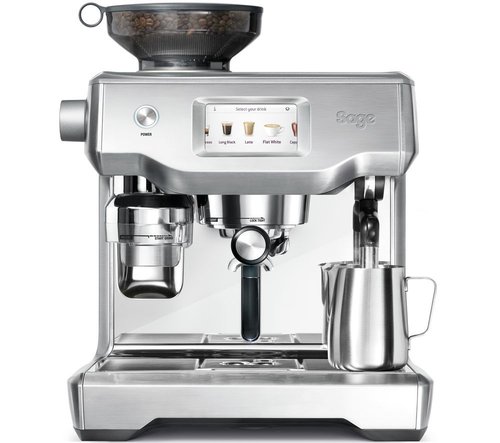 Keep updated with regular content...
We'll only get in touch when we've got something exciting to share, like exclusive discounts and competitions!
Buying Guide
When it comes to buying a bean to cup coffee machine, there are a number of functions that you might want such as multi-cup brewing, connectivity, self-cleaning and the like. However, the three most important features you must look out for are i) types of coffee, ii) in-built milk frothing, and iii) in-built coffee grinding. Once you've got those as a foundation, you can move on to the considerations below.
Your Budget
Bean to cup coffee makers are certainly at the higher range of coffee machine prices, but you really do get what you pay for here. The combination of convenience and quality makes it well worth it. That being said, even within the category there is a wide spectrum of prices. Spend some time reflecting on how important your coffee is to you and therefore what budget you can afford. If you're not that fussy and drink it less frequently, then you might be better off going with a filter coffee machine. These prices are really for coffee fanatics who want the best of the best. One more note, if you're going to buy something at the top of the range, be sure that you get a decent warranty so it can last you a long time.
If you're looking for a coffee maker at the lower end there are lots of other types of machine to choose from too, including filter coffee machines which are designed for convenience and value. Take a look at our blog on the Best Filter Coffee Machines if this feels more up your street, or alternatively our article on the Best Coffee Pod Machines that also tend to be on the lower end of the price spectrum. It's always great to compare!
Types of Coffee
There are a wide variety of coffees out there, so it's important that the machine you buy can make the specific coffee that you and your family like. In addition, it's a good idea to get a machine that can do a lot of varieties anyway, so you can entertain easily and so you can test out some new types that perhaps you never would have tried previously.
Milk Frothing
Bean to cup machines fall into two categories when it comes to milk frothing – it can either do it automatically, or it requires you to do it manually. Most people opt for the automatic option because it makes it more convenient, but if you do plan to go with a manual version, you will likely want to purchase your own milk frother if that's important to you. This isn't necessary but it is a nice to have if you're not getting in with your coffee machine itself.
Grinding Your Coffee
In most cases, you're going to want a bean to cup coffee machine with an in-built grinder so you can enjoy a variety of different coffees easily and efficiently. If you go with a machine without an in-built grinder, then you'll probably need to purchase a separate grinder which just adds more hassle to the process. We think it's a no-brainer to get it all in one machine just because of the ease of use.
Pressure
The pressure of a coffee machine is a crucial component to avoiding an overly bitter coffee taste – so it's worth paying attention to when buying a machine. Most machines have a pressure between 15 and 19 bar, with the vast majority being at the industry standard of 15 bar. This is a simple specification that makes a big difference to the coffee you end up drinking.
Cleaning Your Machine
The biggest drawback to these bean to cup coffee makers tends to be the amount of time and effort it takes to clean them. However, the industry has come a long way in recent years and many of the modern machines come with an automatic cleaning feature which can do a lot of the heavy lifting for you. Some machines will also require a bit of disassembly to clean them out and return them to pristine condition. This is definitely something to pay attention to if you drink a lot of coffee, because frequent use must be followed by frequent cleaning.
FAQs
Can you use ground coffee in a bean to cup machine?
It depends on the machine, but in most cases – yes. Most modern bean to cup machines are able to take ground coffee or beans, giving you ultimate flexibility when it comes to your coffee selection.
How does a bean to cup coffee machine work?
Typically, a bean to cup coffee machine will start by grinding your beans of choice, before heating the water and dispensing it over the beans at a setting of your choice before pouring the coffee into a mug below the nozzle. If milk is involved, then the machine will heat and froth the milk as part of the process, delivering that creamy texture that makes coffee great.
How do you clean a bean to cup coffee maker?
Some machines have automatic cleaning processes that will help you to rinse, clean, and descale without you having to do much. In this case, be sure to follow the instructions that came with your machine to ensure it is cleaned properly. If you're doing it manually, then you'll want to remove all the loose parts and rinse them with some hot water and/or descaling liquid to clear out any remnants of previous coffees. Once they are dry, they should be good to go!
Conclusion
That brings us to the end of our ultimate bean to cup coffee machine buying guide. All the information above was carefully curated after going through dozens of different sellers, thousands of reviews, and evaluating the quality and trustworthiness of different brands. We hope that it's been able to give you some insights as to what might be the best coffee maker for your unique needs.
Remember to assess your coffee habits, understand the features that matter to you, and ensure that the machine you pick can make a great version of your favourite coffee. Get those right, and you're off to the races.
Our pick for the best bean to cup coffee machine is undoubtedly the Sage Barista Touch Bean-to-Cup Coffee Machine. This all-in-one marvel has it all from features and function, to design and aesthetic. When you buy one of these, you're getting a powerhouse that can adjust everything to your taste and deliver barista-quality coffee every single time. You won't regret this purchase. We're even a little jealous that you still get to experience it for the first time.
Affiliate disclaimer: on some or all of the products above, we receive a small commission if you make a purchase via our site. This does not impact the price you pay, but it allows us to keep helping people by writing these reviews, so thank you!